8:27 pm | Thursday, September 5th, 2013
Protesting has long been part of our history. And the successful anti-pork barrel rally on Monday underscored this.
There have been other big, important protests in the past.
Some were high-profile events that attracted worldwide action. Others were little-known acts of defiance that nevertheless had a huge impact in our history.
As promised, here are 10 Filipino protests that rocked the country in the past half century.
It must be stressed that this is, no doubt, an incomplete list. I'm sure there are other historic demonstrations that we could add to the list, particularly in the Visayas and Mindanao.
Still, just so we can put what happened on Monday in broader context, let's start with these: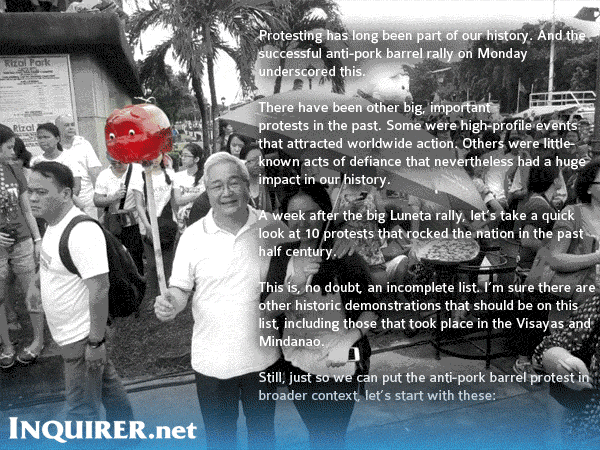 Follow Us
More from this Blog:
Recent Stories:
Tags: Features , Global Nation , Pork Barrel , Protest
Factual errors? Contact the Philippine Daily Inquirer's day desk. Believe this article violates journalistic ethics? Contact the Inquirer's Reader's Advocate. Or write The Readers' Advocate:
c/o Philippine Daily Inquirer Chino Roces Avenue corner Yague and Mascardo Streets, Makati City, Metro Manila, Philippines Or fax nos. +63 2 8974793 to 94