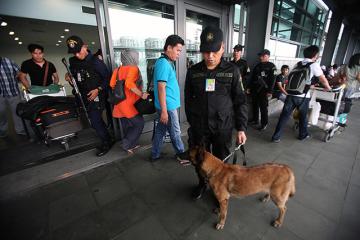 NAIA tightens security amid suspected car bomb plot. Security personnel enforce tighter security measures at the NAIA Terminal 3 in Pasay City on Monday, September 1, after National Bureau of Investigation agents intercepted a vehicle carrying suspected improvised explosive devices. Four suspects were arrested and are now being investigated. Danny Pata
At least three men will be presented to prosecutors on Tuesday over an alleged attempt to smuggle in an improvised bomb into the Ninoy Aquino International Airport early Monday, Prosecutor-General Claro Arellano has said.
Arellano neither identified the three persons in interest nor specified the charges to be lodged against them during the inquest proceedings, radio dzBB's Cecilia Villarosa reported Monday afternoon.
This developed as officials of the National Bureau of Investigation met with President Benigno Aquino III over the incident.
The NBI said it would provide further details in a press conference at 9 a.m. Tuesday.
NBI agents have been reported to be questioning at least three men in connection with the supposed attempt to bring in a bomb to the NAIA.
An initial report by GMA News stringer Ariel Fernandez indicated that four men were brought in for questioning after improvised explosive devices.
Meanwhile, the Civil Aviation Authority of the Philippines said the alert level has been heightened in the country's 40-plus airports nationwide, radio dzBB's Sam Nielsen reported.
n Cebu, GMA Cebu's Gregy Magdadaro reported on GMA News TV's Balita Pilipinas Ngayon that all passengers at check-in counters of the Mactan International Airport were asked to take off their shoes.
Security personnel were stricter in their inspections especially of large pieces of baggage.
Under heightened alert, the airport can implement a "no search no fly policy" on passengers who refuse to be searched.
PNP Aviation Security Group head Chief Superintendent Christopher Laxa said the heightened alert means 50 percent of police personnel are to be at their posts at any time.
"We gave instructions to maximize our foot patrols and police presence," he added.
—Joel Locsin/NB, GMA News