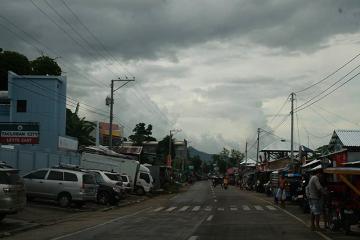 Tacloban braces for Typhoon Ruby. Storm clouds gather over the horizon in Tacloban City on Friday, December 5, as Typhoon Ruby (Hagupit) nears Eastern Visayas. At least 34 areas are under storm signals early Friday, as Ruby intensified further and continued to move toward Eastern Visayas. Arlan Rsequito
Armed Forces of the Philippines Chief of Staff General Gregorio Pio Catapang Jr. has deployed military troops to areas that are under threat of typhoon Ruby to maintain peace and order, and prevent looting incidents.
In a statement, AFP spokesperson Restituto Padilla Jr. said soldiers have been deployed to "critical" areas, including Tacloban City, to support the Philippine National Police "in maintaining peace and order and assisting government agencies in pre-emptive evacuations."
"General Catapang has directed the area commanders to augment the police which are securing urban centers. The soldiers will help our police counterparts in maintaining peace and order, and prevent looting incident," said Padilla.
"We advise the public not to be alarmed by the presence of military vehicles and personnel in their areas," Padilla explained. "They are deployed to help in preparations for typhoon Ruby, particularly in helping people who need to be evacuated to safer places."
There were
several looting incidents
reported in Tacloban City in Leyte in the aftermath of super typhoon Yolanda last year. The streets of the city were in chaos when several residents began looting grocery stores and breaking into shops for food and other basic items they needed to survive.
Looting in Tacloban City was attributed to low police and military presence in the area after the typhoon, a report said.
The AFP added that military vehicles have been deployed in different areas to transport troops that will conduct disaster response operations.
Typhoon Ruby (Hagupit) is now
expected to make landfall on Saturday night
in Dolores, Eastern Samar after picking up speed, Department of Interior and Local Government Secretary Mar Roxas said in a report from GMA's "News TV Live" program on Saturday.
Ruby is expected hit these areas with maximum sustained winds of 185 to 195 kph near the center and gustiness of up to 220 kph.
— Amanda Fernandez/JST, GMA News