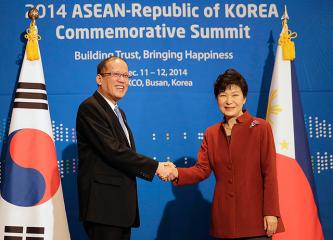 SoKor leader welcomes PNoy in Busan. President Benigno Aquino III is welcomed by Korean President Park Geun-Hye at a bilateral meeting at Westin Chosun Busan Hotel in South Korea on Thursday, December 11, at the sidelines of the 25th ASEAN-Republic of Korea Commemorative Summit 2014. Gil Nartea
President Benigno Aquino III and South Korean President Park Geun-hye held a bilateral meeting on Thursday (December 11) in Busan, a port city of South Korea, on the sidelines of the Association of Southeast Asian Nations (ASEAN)-South Korea Commemorative Summit.
The two leaders were expected to discuss ways to develop bilateral cooperation, South Korea's presidential office said.
South Korea and the Philippines established diplomatic relations in 1949. A close ally of the United States, the Philippines dispatched 7,420 soldiers to South Korea during the war.
South Korea held a welcoming banquet for southeast leaders to celebrate the regional gathering on Thursday. The banquet is the first official event of the two-day summit.
South Korean President Park Geun-hye said the summit will help to boost ties.
"This commemorative summit is meaningful because it comes at a point where South Korea and ASEAN celebrate 25 years of friendship and will serve as the foundation to step up relations," Park said.
The leaders are set to discuss ways to improve strategic partnerships at a meeting on Friday (December 12).
Park also held a bilateral meeting with Singaporean Prime Minister Lee Hsien Loong to strengthen the partnership between the two countries and cooperation in the economic sphere.
Diplomatic relations between Singapore and South Korea started in 1975.
Leaders of 10 Southeast Asian countries are scheduled to attend a welcome banquet later on Thursday, the first official event of the summit that is hosted by Park.
ASEAN countries are made up of Brunei, Cambodia, Indonesia, Laos, Malaysia, Myanmar, Philippines, Singapore, Thailand, and Vietnam.  
— Reuters