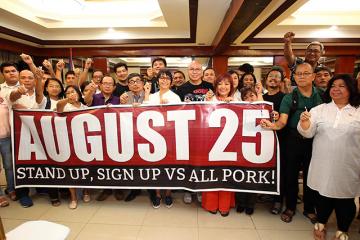 Another anti-'pork' rally set on August 25. At a press conference in Quezon City on Tuesday, August 12, convenors of the Abolish Pork Movement urge other groups to join the anti-pork barrel rally set at the Luneta Park on August 25. GMA News
Over a week before the scheduled nationwide protest actions on August 25, Malacañang on Wednesday countered calls from anti-pork barrel groups to remove all forms of discretionary funds from the national budget.
At a press briefing, presidential spokesman Secretary Edwin Lacierda said that it is impossible to remove all contigent funds in the budget, due to "practical purposes."
"It's nice to hear all these people, the left would say, 'Wala. Hindi pwede. Tanggalin na 'yung contingent fund. Dapat specific.' But they themselves know it can never happen that way," Lacierda told reporters.
He cited as example calamity funds, which he said the government could not disaggregate because natural disasters cannot be predicted.
"You cannot define with exactitude the amount that you're going to identify to a particular storm or particular natural calamity. These things are force majeure," he said.
The protesters will also launch a people's initiative to abolish the pork barrel system during the August 25 event. 
Making the DAP constitutional
During the same briefing, Lacierda maintained that there is nothing wrong with the Executive's efforts to legalize certain acts under DAP earlier struck down by the SC as partially unconstitutional.
The President's spokesman pointed out that even the high court agreed that the DAP "produced beneficial effects for the country."
"Kung nakakatulong sa bansa natin, bakit natin hihindian, babawalan? We know already how the Supreme Court defines it, so let's find a way to make it constitutional, and that's what we're doing," he said.
He added that the administration will not prevent the people's initiative against discretionary funds since the Philippines is "a free country."