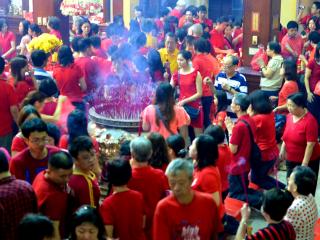 Chinese New Year. Seng Guan (信願寺) temple in Manila's Chinatown district on Sunday was crowded with people mostly wearing red, hoping for good luck and happiness in the Year of the Snake. Klein Sze/ Ang Pahayagang Plaridel
The celebration of the Chinese New Year should be a reminder to the peoples of the Philippines and China of their brotherhood amid their seeming differences, Vice President Jejomar Binay said Sunday.
In his Chinese New Year message, Binay said the kinship of the Filipinos and Chinese span millennia, and Sunday's occasion reminds them they can work together harmoniously.
"New Year celebrations such as this remind us that China and the Philippines have more similarities than differences, more brotherhood than anything else," he said in his message posted on his Facebook account.
The Philippines and China had been engaged in a territorial dispute over parts of the South China Sea (West Philippine Sea).
Last January, the Philippines handed a note verbale to Chinese Ambassador Ma Keqing to notify China of its decision to elevate its complaint to an Arbitral Tribunal.
The Arbitral Tribunal is an option provided for by the United Nations Convention on the Law of the Sea (UNCLOS).
China's nine-dash line overlaps with the territories of its Asian neighbors like the Philippines, Vietnam, Malaysia, Brunei and Taiwan.
But Binay also pointed out several Filipino customs sprout from Chinese roots.
He also said the age-old values of hard work, respect for elders, and sense of duty to our country "are common threads that run through the very soul of both nations."
"Truly, our kinship which spans millennia reminds us that we can work harmoniously together to bring about economic prosperity, peaceful coexistence, and political stability in the country. Bound by our fraternal ties, let us work hard to ensure that nothing but good fortune and happiness may be shared by our succeeding generations," he said. — BM, GMA News