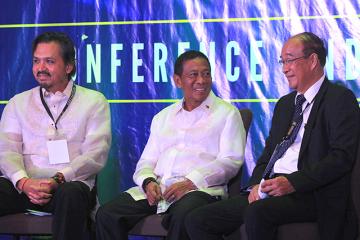 VP Binay at PHL mining confab. Vice President Jejomar Binay (center) exchanges pleasantries with Artemio Disini (right), Chamber of Mines of the Philippines (CMP) chairman, and Benjamin Philip Romualdez, CMP president, during the 25th Philippine Mining Conference at Sofitel in Pasay City on Wednesday, September 17. Danny Pata
Vice President Jejomar Binay on Wednesday denied that he was already campaigning when he went to Cagayan and Isabela to bring relief goods to victims of typhoon Luis, a report on GMA's "24-Oras" said Wednesday.
He said his visit to the Cagayan Valley an act to help victims of the typhoon after he was questioned for giving out t-shirts.
"Unang-una, masama ba 'yun? Pangalawa 'di ba mataas ang priority nun? Biro mo naman dahil sa Signal No. 3 'yung dumating ang isang taga pamahalaan ay nagpapakita na mayroong caring na government," he said.
Meanwhile, members of the United Makati Against Corruption (UMAC) picketed outside the Vice President's office in the Coconut Palace.
The UMAC challenged Binay to face the Senate investigation on the alleged overpriced Makati Cityhall parking building.
Binay and his son, Makati Mayor Jejomar Binay, are facinig plunder charges in connection with the P2.7-billion 
Binay is set to deliver a public address around 2 p.m. on Thursday regarding the issue at the Philippine International Convention Center.
—Andrei Medina/NB, GMA News