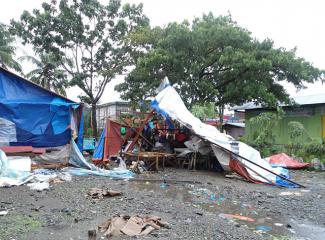 Aurora hardest hit by Labuyo. A stall is blown away by the strong winds brought by Typhoon Labuyo (Utor) in Baler, Aurora province on Monday, August 12. Ronald Leander
Cavite province and Masinloc town in Zambales were placed under a state of calamity Tuesday following the destruction caused by Typhoon Labuyo (Utor). Earlier, three towns in Aurora were placed under a state of calamity because of Labuyo.
In Cavite, Vice Governor Ramon "Jolo" Revilla III said the provincial board passed two resolutions declaring a state of calamity via Resolutions No. 67-S-2013 and 68-S-2013.
The resolutions, posted on Revilla's Twitter account, placed the province under a state of calamity, not only bacause of Labuyo, but also because of an oil spill off Rosario town last week.
At least four towns in the province were affected by a diesel spill last week, which affected the livelihood of some 300 fishermen.
Petron Corp. on Monday took responsibility for the leak.
Zambales
Masinloc town town in Zambales province was placed under a state of calamity Tuesday, after floods cause by Labuyo displaced residents, and destroyed roads and bridges, the Philippine News Agency reported.
The report said seven barangays in Masinloc town were flooded, with waters reaching two to five feet high as of Monday afternoon. The town areas affected were North Poblacion, South Poblacion, Inhobol, Sto. Rosario, Tapuac, Sta. Rita, and Collat.
At least 4,200 families or 25,229 people were displaced and are now in evacuation centers.
Meanwhile, a part of the highway in Palauig town was washed-away, leaving only one lane passable. — DVM, GMA News