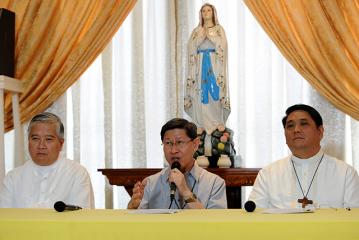 CBCP confirms Pope Francis' visit in 2015. At the CBCP office in Manila on Monday, July 7, Dagupan Archbishop Socrates Villegas (left), Manila Archbishop Luis Antonio Cardinal Tagle (center) and Pasig Bishop Mylo Vergara brief members of the press on the planned visit of Pope Francis to the Philippines in January 2015. Pope Francis will visit the victims of Typhoon Yolanda in the Visayas. AFP/Jay Directo
The Catholic Bishops' Conference of the Philippines on Monday called on the Filipino faithful to make one act of mercy each day to prepare for the visit of Pope Francis in early 2015.
CBCP president and Lingayen-Dagupan Archbishop Socrates Villegas also encouraged priests to make themselves more available for the Sacrament of Reconciliation or Confession.
"We encourage you our dear people to resolve to make an act of mercy every day," Villegas said
in a pastoral letter
. 
"When the Pope comes, he will bring with him the message of the mercy and compassion of God.  When he meets us, may he see in us a people touched by the mercy of God, living out the compassion of God, a people truly rich in mercy and compassion and grateful to those who have shown mercy to us especially after various calamities hit our country," Villegas added.
He said people can reach out to a lonely stranger, tell the story of Jesus to a child eager to understand and feel the love of God, advise a confused co-worker or "forgive someone who has wronged you."
Villegas said other acts of mercy may include giving food to a hungry beggar or contributing to building homes for the typhoon victims.
Even a habit to say "please", "thank you" or a kind word of appreciation and refraining from cursing or using hurting words are acts of mercy, he said.
"Being polite to the children and infants, to the sick and the elderly are great acts of mercy," Villegas said.
The CBCP on Monday confirmed that Pope Francis was visiting the Philippines in early 2015.
Villegas said the Pope's visit "[carried] a message of pastoral love, mercy and compassion from a Pope with the scent of a Good Shepherd."
"Let us prepare to see the Pope by reviving personal and family prayer. Pope Francis has challenged us to restore family prayer and devotion in our homes," Villegas said.
He said the nation must be prepared to receive the Pope by "setting our minds and hearts in communion with our dear Pope Francis, the messenger of peace, love, and the apostle of the poor."
"Our compassionate shepherd comes to show his deep concern for our people who have gone through devastating calamities, especially in the Visayas. He comes to confirm us in our faith as we face the challenges of witnessing to the Joy of the Gospel in the midst of our trials," he said.
—Joel Locsin/NB, GMA News