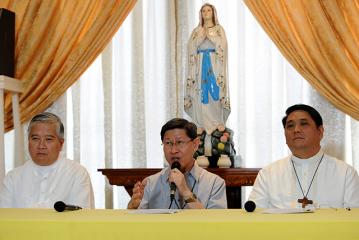 CBCP confirms Pope Francis' visit in 2015. At the CBCP office in Manila on Monday, July 7, Dagupan Archbishop Socrates Villegas (left), Manila Archbishop Luis Antonio Cardinal Tagle (center) and Pasig Bishop Mylo Vergara brief members of the press on the planned visit of Pope Francis to the Philippines in January 2015. Pope Francis will visit the victims of Typhoon Yolanda in the Visayas. AFP/Jay Directo
The Catholic Bishops' Conference of the Philippines won't issue a statement as regards the impeachment proceedings against President Benigno Aquino III over the Disbursement Acceleration Program, parts of which have been declared unconstitutional by the Supreme Court.
Lingayen-Dagupan Archbishop Socrates Villegas, the president of the CBCP, instead called on lawmakers to discern how to deal with the impeachment complaints filed against the Chief Executive.
"With regards to the impeachment, let us return to our roles as bishops. As bishops, we are not social and political troublemakers. We are conscience trouble makers. So it is for us to form consciences so that political and social decisions will be made from the point of view of ethics and morality," Villegas said on Monday.
Villegas said it would be good for politicians to base their decisions on ethics and morality.
"To answer the question, I will ask you: Will an impeachment process be helpful for the Philippines right now? Will an impeachment process be helpful in alleviating the situation of the poor right now? Will it contribute to reaching out to the children and to the youth as they become more productive citizens of the future in the Philippines?" Villegas said.
"So if this action of impeachment will promote the common good, it is for those responsible to make a moral decision. Our only appeal is, in deciding whether for an impeachment or no impeachment, that it is decided based on what would God do? What is good for the nation? What is for the common good? What is for the good of the poor?" he added.
Lawyer Oliver Lozano last week filed an impeachment complaint against Aquino before the Ombudsman.  Former Technical Education and Skills Development Authority chief Augusto Syjuco filed his own complaint against the President on Mondaybefore the House of Representatives.
A vote of one third of the House of Representatives is needed to transmit the impeachment complaint the President to the Senate sitting as an impeachment court. —NB, GMA News