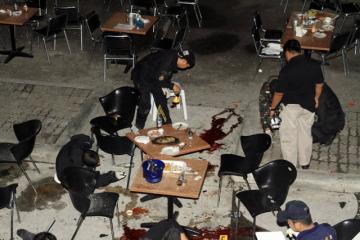 Cagayan de Oro blast kills six people. Bomb squad operatives inspect the area where the Friday night blast ripped through a crowded bistro in Cagayan de Oro City. Bobby Lagsa
Six people were killed and more than 40 wounded in the Philippines when a bomb struck a restaurant filled with doctors after a national convention, police said Saturday.
Police said the improvised explosive device went off around midnight (1600 GMT Friday) at a popular restaurant in the southern port city of Cagayan de Oro.
Most of the victims were doctors and pharmaceutical salesmen who had just attended a national convention of lung-disease specialists at a nearby hotel, said the city police chief, Senior Superintendent Graciano Mijares.
"This is one of the busiest areas of Cagayan de Oro…. somebody left a bomb on a chair at the bistro," he told reporters.
He declined to speculate on the motive for the bombing, saying an investigation was under way.
Cagayan de Oro is located on the main southern island of Mindanao, which has been blighted by a decades-old rebellion by elements of the large Muslim minority in the mainly Catholic Asian nation.
Local businessman Noel Arcenas, who owns an electronics shop at the shopping complex where the restaurant is located, said at least 100 people were inside the bistro when the explosion occurred.
"I felt then heard the blast," said Arcenas, who added he was standing about 15 metres (49 feet) away.
"I looked around and saw this ball of white smoke. People were running away bloodied and survivors were dragging at least seven or eight people away from the blast site."
The powerful explosion broke glass panels, upturned tables and chairs, and damaged cars parked up to 30 metres away, reporters at the scene said.
The six dead included two doctors as well as local politician Roldan Lagbas, a member of the provincial executive board of Misamis Oriental province, police said.
Forty-six other people were taken to area hospitals for treatment, said regional military spokesman Lieutenant-Colonel Leo Bongosia in an updated tally.
President Benigno Aquino's government denounced the attack.
"We deplore this act of violence at this meeting of professionals, the Philippine College of Physicians, whose mission in life is to bring about healing," Aquino spokesman Herminio Coloma told reporters in Manila.
"We will have to look into the matter and ensure there will be no future breaches of security."
Cagayan de Oro Mayor Oscar Moreno told ABS-CBN television network that at least two of the wounded were in critical condition.
"Doctors have been attending to them and we hope their situation will stabilise soon," Moreno told the station.
Asked who he thought was responsible for the attack, he said: "It's hard to speculate at this time."
Muslim groups including the Moro Islamic Liberation Front (MILF) have waged a guerrilla war for a separate Islamic state in Mindanao since the 1970s, a conflict that has claimed an estimated 150,000 lives.
The Aquino government and the MILF signed a preliminary deal in October last year outlining the broad terms for a peace treaty that is expected to be signed before he ends his six-year term in 2016. – Agence France-Presse