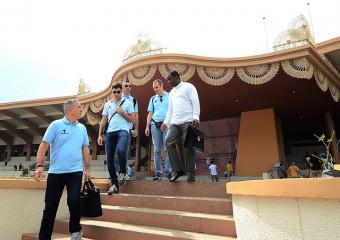 Pope's Swiss Guards inspect Quirino Grandstand. Members of the close-in security group (Swiss Guards) of Pope Francis inspect the Quirino Grandstand at the Luneta Park on Tuesday, January 13, in preparation for the Pope's Mass on January 18. Roy Lozano
Not all priests are vested equally and some of them may be assassins in disguise, church officials and policemen warned on GMA 7's "24 Oras" Tuesday.
Sutanas were allegedly found at the apartments of the terrorists who attempted to assassinate then-Pope John Paul II  in 1995.
Because of this, a strict system of verification was devised for holy persons during the events Pope Francis will attend this week.
"Maingat na po tayo diyan, kaya lahat po ng mga pari, hindi basta makakapasok na naka-sutana lamang ang dala nila," Msgr. Clem Ignacio commented.
"Meron pong ibang mga pararaan para masiguro na hindi sila nagpapanggap lamang," he added.
At least 200 soldiers will be sent to Leyte for the protection of the Pope, augmenting the Office of Civil Defense as part of the incident management team in Tacloban City. —NB, GMA News