(Updated 11:53 p.m.)
Cagayan de Oro first district Rep. Benjo Benaldo was rushed to the hospital after he was found bleeding from an apparent self-inflicted gunshot wound at the South Lobby of the Batasan Pambansa early Thursday evening, officials said.
In an interview with Jessica Soho on GMA's State of the Nation news program, House Speaker Feliciano Belmonte Jr. said the 43-year-old Benaldo was alone in his room before he was found bleeding in the lobby.
"Apparently, nag-iisa lang siya sa room at the time it happened. He probably shot himself in the chest," Belmonte said.
Marcelo Castro of the House Media Bureau, who saw Benaldo drenched in blood at the lobby, told GMA News Online that the wounded congressman was immediately brought to New Era Hospital along Commonwealth Avenue.
As of posting time, Belmonte said Benaldo's condition was "progressing" at the hospital.
"Nakakapag-thumbs up pa nga siya at nakatawa," the Speaker said.
 
 
 
 
Belmonte said Benaldo did not appear "emotionally distraught" before the incident, but added that he may have been depressed after losing his reelection bid in the 2013 elections.
"He was probably feeling depressed after the loss like everybody else," Belmonte said.
A first-term congressman from the Nacionalista Party, Benaldo lost to barangay chairman Rolando Uy of the Liberal Party in the May polls.
Also at the hospital with Belmonte were Marikina Rep. Miro Quimbo, Quezon City Police District director Senior Superintendent Richard Albano, and Benaldo's wife, Brazilian model and television personality Daiana Menezes.
Quimbo said the bullet from a 9-mm pistol pierced Benaldo's chest.
"Tagusan po 'yung 9-millimeter na bala," said Quimbo, describing the wound as "potentially lethal."
But he added, "Hindi naman tumama sa mga vital organs niya."
Benaldo appeared to be in good spirits, Quimbo said. "Nakakapagbiro naman siya. Maganda nga kulay ng mukha niya," he added.
Meanwhile, Senior superintendent Albano said a 9-millimeter pistol was seen on a table in Benaldo's office when the representative was found.
Benaldo was then escorted out of his office by three men before he was sent to the New Era Hospital, Albano added.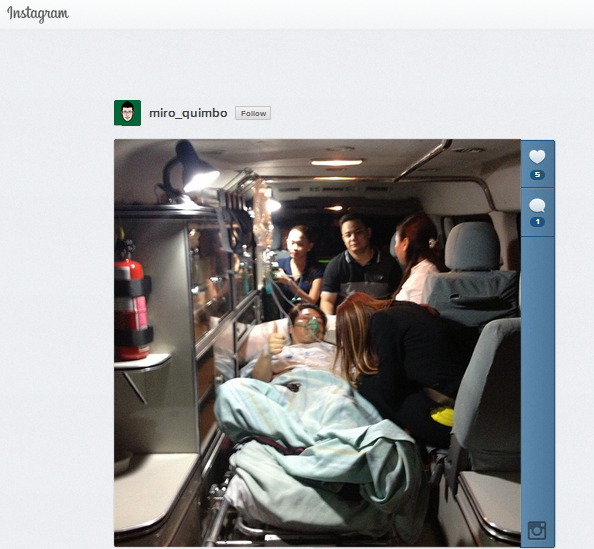 While emergency medical personnel were preparing to rush Rep. Benjo Benaldo to the hospital, Rep Miro Quimbo took this picture of Benaldo with his distraught wife, Daiana Menezes, sitting by his side. Benaldo is being treated for a single gunshot wound to his chest.
The injured congressman was transferred to the St. Luke's Medical Center, also in Quezon City, later in the evening, GMA news program "Saksi" reported.
Marital spat
Benaldo had been in the news recently over a much-publicized spat with Menezes.
Last Monday, Benaldo had sent a statement to the Philippine Entertainment Portal warning of possible legal action against critics of Menezes, who had posted cryptic messages on social media about violence against women.
"I respect freedom of the press and freedom of speech. However, due to my apparent lack of admission and apology on TV, several media personalities have relentlessly lambasted and attacked Daiana," Benaldo said.
"There is a limit to freedom of the press and of speech under our Constitution. The moment that limit is breached, we will never hesitate to file the appropriate legal actions," he added.
Menezes had posted a series of messages and pictures against domestic violence on social networking sites earlier this month, leading to speculation that she was a victim of domestic abuse herself.
A few days later, Menezes appeared on the showbiz talk show The Buzz, denying that she was a victim of abuse and saying she only made the posts to get Benaldo's attention.
Benaldo also issued a statement later, denying that he abused Menezes. – with a report from Andreo Calonzo/DVM/BM/YA, GMA News