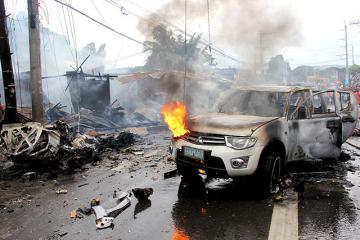 8 dead, 30 hurt in Cotabato blast. Houses and a pick-up truck burn after a powerful improvised explosive device (IED) was detonated along Sinsuat Avenue in Cotabato City on Monday afternoon, August 5, killing eight people and wounding at least 30 others. At left is the charred wreckage of the suspected vehicle where the bomb was planted. Omar Mangorsi
Cotabato City administrator Cynthia Guiani-Sayadi, believed to be the target of Monday's car bomb attack that killed eight people and injured over 30 others, affirmed on Tuesday that she and her family have been receiving death threats because of their campaign against crime syndicates.
"Bobombahin daw kami, papatayin kami, including my son," she said in an interview on dzBB radio. However, she did not identify the person or group behind the threats.
The blast, which occurred on Sinsuat Street, happened while she was passing through the area in a bulletproof car that is used by both Sayadi and her brother, Cotabato City Mayor Japal Guiani Jr.
Interviewed on GMA's "24 Oras" newscast, her brother said they were targeted for their campaign against kidnapping and illegal drugs.
"Tingin ko marami kaming naapakan, because we are able to unmask some groups, and continuous ang aming drive," he said.
The explosive device was placed on a vehicle— believed to be a multi-cab — parked on a busy road near a hospital during the afternoon rush hour.
Sayadi was unhurt in the attack, but two of her bodyguards were among the fatalities.
Bomb-for-hire group
Cotabato City police chief Senior Superintendent Rolen Balquin said no group has so far come forward to claim responsibility for the blast.
However, National Security Adviser Cesar Garcia said in a "24 Oras" report that the Jemaah Islamiyah, a militant Islamic group in Southeast Asia believed to have links to Al Qaeda, may be behind the blast.
The incident occurred amid a global security alert issued by the Interpol, which was prompted by al Qaeda communications intercepted by US intelligence about new plans for terrorist attacks. But authorities have not linked the Cotabato explosion to anything beyond local politics.
Garcia cited the possible involvement of Zulkifli bin Hir, also known as Marwan who is among the US Federal Bureau of Investigation's most wanted list, in the car bomb attack.
"Marwan designed an improvised explosive device that was similar to the one that exploded in Cotabato City, the vehicle-borne IED," Garcia said.
He added that Marwan had been involved in bombing-for-hire groups. "I would not put it behind him to get involved in a contract activity," the official said.
According to information received by the agency, the suspects may have used a two-way radio system to trigger the explosive device, Garcia said.
Second attempt possible
Meanwhile, the group behind the Cotabato blast may still detonate more car bombs after their first attempt to kill their target failed on Monday, according to a report from GMA News' Jiggy Manicad on the "24 Oras" newscast, citing an intelligence report from the Philippine National Police (PNP).
"We could look at the possibility kung bakit bomb ang ginamit instead of ambush type. Instead of gun-for-hire, baka

In a separate dzBB interview, Region 12 police head Chief Superintendent Charles Calima Jr. said they are pursuing the theory that Sayadi may have been the target of the bombing attack.

In the "24 Oras" report, Guiani-Sayadi gave a chilling account of the aftermath of the bombing.

"Biglang pumutok, and after about three or five seconds, another explosion occurred. Wala kang makita kundi apoy o black smoke. And then, ang tahimik ng paligid," she said.

"After that, nakita ko na lang na puro patay, nakahiga, mga humihingi ng tulong," Guiani-Sayadi added.

"We usually pass that road," she said of Sinsuat Street, a busy highway lined by commercial establishments.

Guiani-Sayadi said security for her relatives has been tightened following the attack. "Yes, they are all secure now," she told reporters. — KBK/YA, GMA News