A military court has convicted a former battalion commander in connection with the October 2011 bungled military operation in Al Barka town, Basilan, that left 19 soldiers dead.
In a unanimous decision, the tribunal found Lt. Col. Leonardo Peña, former commander of the 4th Special Forces Battalion, guilty of violating Article of War 97 (conduct prejudicial to good military order and discipline).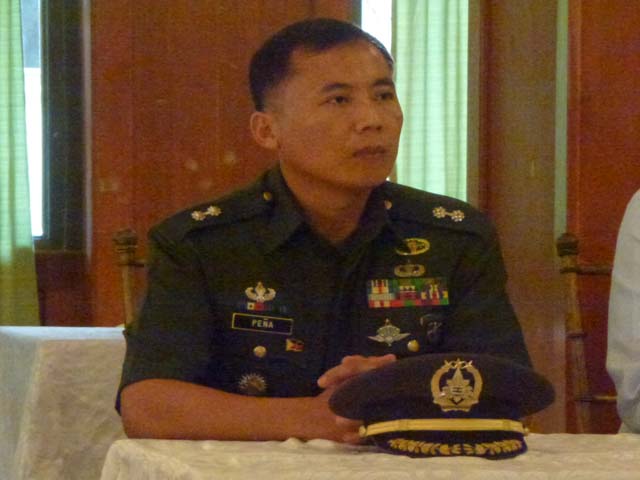 Lt. Col. Leonardo Peña: This is where I stumbled, this is where I will rise again. GMA News
Court martial head Brig. Gen. Teodoro Cirilo Torralba III said among the penalties imposed on Peña were reduction of rank, two-year suspension from command, and two-year suspension from promotion.
Peña had also been charged of violating Article of War 96 (conduct unbecoming an officer and a gentleman) but the seven-man court dropped it several months ago.
Peña was one of four officers who faced court martial proceedings over what is considered as one of the worst military defeats in recent history.
The troops were supposed to serve arrest warrants to some Moro Islamic Liberation Front (MILF) members in Al Barka town, but the rebels—reportedly backed by Abu Sayyaf bandits—fought back and waylaid the soldiers.
A third officer, Col. Aminkadra Undug, the erstwhile commander of the Special Force Regiment, has earlier been convicted of violating Article of War 97 over the same incident.
However, Peña, a member of the Philippine Military Academy Class of 1991, was cleared of another charge — Article of War 84 (damage or loss of military property).
Former commander of Special Operations Task Force Basilan Col. Alexander Macario, and Special Forces Regiment Training School commandant Lt. Col. Orlando Edralin, were cleared by the military tribunal of neglect last October.
"I will rise again"
Reached for a comment, Peña said he has accepted the court's decision.
"This is where I stumbled, this is where I will rise again," he said. "I will continue with the service."
Peña said he hopes to have another position one day besides a command post in the military.
Torralba said while Peña could not be  assigned a command post, he could be given an administrative position.
Meanwhile, although Peña have been on floating status for two years since the encounter, the court's decision may only be applied after the approval of the Armed Forces chief Gen. Emmanuel Bautista.
"As far as the handbook of the general court martial is concerned, it is specifically stated that the sentence will start upon the approval of the convening authority," Torralba said. — Marc Jayson Cayabyab/KBK, GMA News