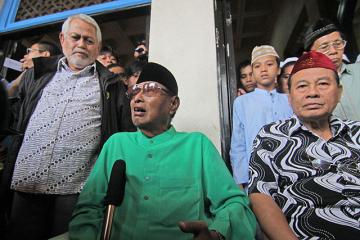 Sultan of Sulu says Sabah followers will not fire weapons. At the Blue Mosque in Taguig City on Friday, Sultan of Sulu Jamalul Kiram III (center) said his followers in the Malaysian state of Sabah will not fire their weapons in asserting their reclaim of Sabah. He said he will insist on talks between the sultanate and the Malaysian government at a neutral country. Also in photo are Al Tillah, former governor of Tawi-Tawi (left) and Hadji Hamilian (right), mosque administrator. Danny Pata
Despite the 48-hour deadline set by Malaysian authorities, Sultan of Sulu Jamalul Kiram III on Friday said his Royal Army, some of whom are reportedly armed, will be staying put in Sabah and will even build a house in northern Borneo. 
 
In her report aired on GMA News TV's Balitanghali, Sherrie Ann Torres said Kiram appeared to be irritated when asked to comment on the supposed deadline. 
"Puno na ako ng ultimatum… that ultimatum kako na wala naman," Kiram said in the television report.
Kiram also said it was the Philippine government which gave the 48-hour deadline, and not the Malaysian government.
On Thursday, President Benigno Aquino III criticized the Filipinos who went to Sabah to stake a territorial claim, warning their actions could lead to conflict.
Build a house
 
In the same television report, Torres said the Royal Army plans to build a house in northern Borneo, where it has been holed up for about two weeks now.
"Hindi na raw aalis doon sina Rajah Mudah Agbimuddin Kiram, magtatayo na raw sila doon ng bahay," Torres said in her report.
According to a previous report of Agence France-Presse, the armed group led by Sultan of Sulu Rajah Mudah Agbimuddin Kiram arrived in the coastal town of Kampung Tanduo in Sabah last February 9 supposedly to reclaim their ancestral homeland.
The Sultanate of Sulu, which the elder and younger Kiram were both heirs, leased northern Borneo to Europeans back in the 1870s. They still receive yearly compensation from the Malaysian government under an age-old agreement.
One of the demands of the Filipinos there is more compensation, an Agence France-Presse report said.
Still, the elder Kiram reiterated its call for a peaceful resolution in the territorial claim in Sabah, the television report said.