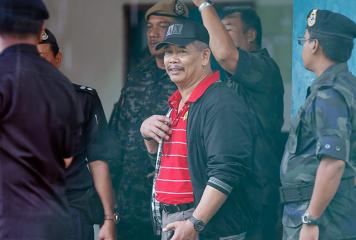 Malaysian cops, troops surround Filipino armed group in Sabah . Sabah Police Commissioner Hamza Taib (center) leaves after a meeting at a police base near Lahad Datu on Borneo island on Sunday. About 100 armed men holed up in a village in Sabah, Malaysia refuse to leave, saying they have links with the Sultanate of Sulu in the Philippines which has a historic claim over the northern tip of Borneo island. Malaysia police and army troops have surrounded the village, with navy boats patrolling nearby islands. Reuters/Bazuki Muhammad
Malacañang remained adamant that despite the incident involving some 400 people including 20 gunmen who have crossed over to the Malaysian state of Sabah, the Aquino administration will not revisit the country's claim to the disputed land.
"From what I understand, the claim is there and it hasn't moved for quite some time. I also remember that the President did mention that it's been dormant. Let's leave it at that for the moment," Deputy Presidential Spokesperson Abigail Valte said in a briefing.
In the 1960s, the Philippine government laid claim over Sabah based on historical and legal data, but later suspended its claim and instead forged close cooperation with its neighbor Malaysian.
Valte added that more than any claim over Sabah, the administration is more concerned about the safety of those involved in the standoff.
"The main concern really is the safety of the people who are there. So 'yun po muna 'yung pinag-uusapan at 'yung sinesentruhan natin," Valte said.
"[We want] to make sure that these people are alright; that there would be a peaceful ending to the incident. So siguro po itong mga isyu na 'to, isantabi po muna natin at hindi pa ho 'yan kasama doon sa sphere ng pinag-uusapan," Valte also said.
Citing the issue's sensitivity, Valte remained tight-lipped over the exact steps the government will take to repatriate the followers of Sultan Jamalul Kiram, who have expressed a desire to live in Sabah, claiming it as their ancestral land.
"At this point we can't really talk about the specifics yet. The matter is very sensitive. The incident is very sensitive and as such, we are withholding comment and deferring to the DFA just to apprise the public on any developments that they may deem appropriate," Valte said. — BM, GMA News