Devotee on seeing Pope Francis in person: 'Daig pa ang tumama sa Sweepstakes'
Long walks, standing for hours, jostling for a better view — the experience may be gruelling, but fatigue was the last thing on the mind of those who trooped to areas surrounding the sprawling SM MOA in Pasay City on Friday afternoon to witness Pope Francis in person.
"[We feel] overwhelmed kasi once in a lifetime lamang pupunta yung Pope. Isang malaking pribelehiyo para makita namin si Pope, para makapag-serve," said Jimmy Banca, a choir head with National Shrine of Mary, Help of Christians – El Shaddai.
He said 2,000 volunteers from different parishes lent their services to keep the area clean and safe even after the Pope left for the Nunciature.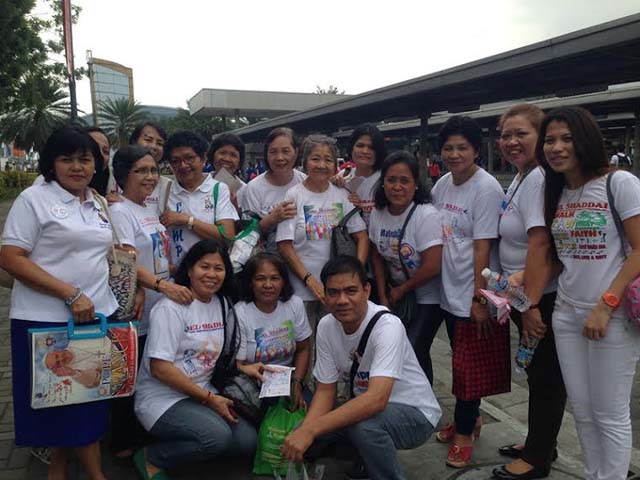 At least 13,000 people joined Pope Francis at the SM MOA for the meeting of families, an event where he got the chance to listen to touching stories on poverty, migration, and disabilities shared by Filipinos
Keeping a more professional upkeep of the surrounding areas were Metro Manila Development Authority streetsweepers, some of whom already met Pope Francis while attending to their duties at Roxas Boulevard.
"Ang saya, ang ganda ng pakiramdam, lalo na nung pagdaan kagabi. Parang ang lamig-lamig ng pakiramdam, ang sarap talaga, daig pa nun na tumama ka sa Sweepstakes," said Anita Lucas, who has been with the MMDA since 1983.
Even if they weren't assigned to the event, Lucas and her fellow streetsweepers agreed that they would exert all their efforts to see Pope Francis in person.
"Maski hindi kami tauhan ng gobyerno, talagang pupunta't-pupunta kami," she said.
Others who were at the area during the event had no duty that they needed to fulfill, except for the pure need to see the head of the Catholic Church in the flesh.
"Pope Francis is our Father. Talagang voluntarily kami dito to see him and to see everybody [as] one," said Sister Ruberita Mariano Linsangan of the Franciscan Sisters of the Immaculate.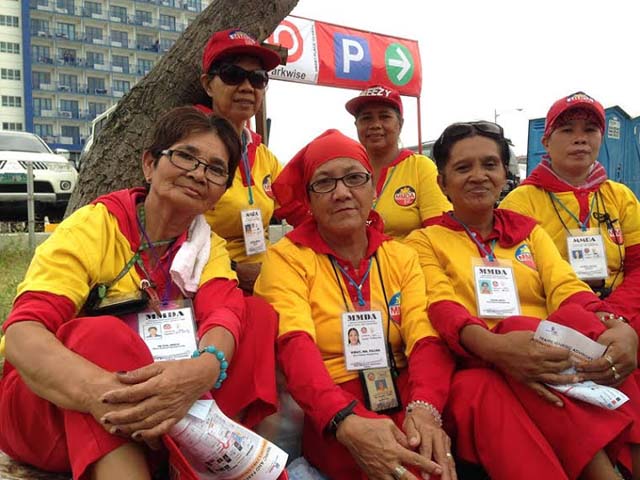 Though she and other laypeople were not selected by the chancery for the MOA event, their collective faith urged them to keep updated on papal events and pray for his safety.
"[He's] a very open man. We prayed for him, as a congregation and as a diocese for his safety, kasi 'di natin alam kung anong mangyayari," Linsangan said.
Various military and police outfits were enlisted to secure the entire papal route to MOA alongside with seminarians to form human barricades.
Keith Baluyot and Robert Arellano from the San Carlos Seminary were just some of the 70 seminarians from the Archdiocese of Manila to join the security detail. Like all participants, they thrummed with the thrill of manning the streets.
"We are tasked to have this kind of participation. In return, we are submissive and we want to be part of this celebration. It's not because we are obliged," said Arellano.
Baluyot said those who were not picked volunteered for the task. — KBK, GMA News