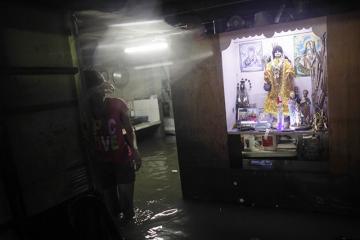 Flood hits Parañaque as monsoon ravages homes. A resident takes a break from cleaning her house, which was deluged by monsoon rains in Sucat, Paranaque, on Monday, August 19. John Javellana / Reuters
Health authorities on Monday warned the public against selling or consuming food or medicines that were submerged in floodwaters.
"Discard any water damaged food packed in plastic, paper or carton. Throw screw-capped fluid bottles submerged in flood," National Epidemiology Center head Dr. Enrique Tayag advised.
The Food and Drug Administration, for its part, noted flood waters are "most likely to contain physical, chemical and biological hazards to health."
It added contaminants may include "animal and human feces and other excrements, mainly from overflowing septic tanks and sewage system, and heavy metals, fuel and other chemicals and pesticides from nearby industrial factories, hospitals or clinic, or farms."
"It only takes a small amount of microbial pathogens to make people sick, which can manifest after several days after exposure. ,Infection can be through ingestion of contaminated food and water, penetration of mucous or skin with cut or lesions, and possibly inhalation of aerosol, produced, for example, by playing in flood water."
Sale, purchase
The FDA reminded establishments against "selling, offering for sale or use, donating, transporting, and moving or distributing flood water-damaged canned goods and other processed food products, medicines, and cosmetic products."
"All health product establishments shall immediately pull out all damaged health products from the shelves," it said.
It reminded consumers against buying flood water-damaged food products, including canned goods, as discounted goods or offered in promos like "buy one take one" or "bundle-packed goods."
The FDA urged local government units, health product establishments including groceries or supermarkets and drug outlets, and consumers to cooperate with FDA inspectors.
It said they can inform the FDA of violations at telephone no. 857-1900 or email via,report@fda.gov.ph.
Tips
The FDA issued the following tips for consumers and establishments to prevent food and water-borne illnesses (http://www.fda.gov.ph/advisories/99523-fda-advisory):
– Consumers should throw away all medicines, food, or water exposed or submerged or that had come in contact with flood water.
– Boil drinking water for at least 10 minutes. The time starts when water starts to boil.
– Do not re-freeze food that has been thawed out. Throw away defrosted food.
"To be on the safe side, remember that – if in doubt about a health product, throw it out," the FDA said.
Meanwhile, the FDA said food preparation surfaces like tables, plates, kitchen utensils, cupboards, and refrigerators should be washed thoroughly with soap and water, and disinfected with chlorine solution. — DVM, GMA News