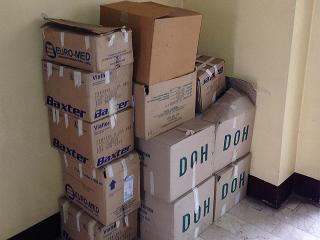 Ona's personal effects removed, shipped out . The second batch of personal effects of Health Secretary-on-leave Enrique Ona, contained in 12 boxes that will be delivered to his residence in Pasig, is piled up on Tuesday, December 16, at the inner foyer of his office at the DOH building in Manila. Among these were 11 paintings and works of art. Ona went on leave on Oct. 28. Ibarra Mateo
Department of Health spokesperson Dr. Lyndon Lee Suy on Wednesday said that there was nothing wrong with Acting Secretary Janette Garin using Health Secretary-on-leave Enrique Ona's office, a report on 24 Oras said. 
"Siya naman talaga currently ang acting secretary at napakahirap naman talaga mag-maintain ng dalawang office," he said. 
Suy also explained that most of the documents are being sent to Ona's office, hence, it'd be easier for Garin to look over them. 
On Monday afternoon, boxes containing Ona's documents, plaques, clocks, and other personal effects were seen being loaded into a dark green van. 
Meanwhile, DOH's Administrative Service Director Angelina del Mundo denied that Ona was being kicked out of his office. 
"Wala. Wala pong official na information about that," she  said. 
Ona is being investigated in connection with the DOH's controversial procurement of P833.6 million worth of anti-pneumonia vaccines, Pneumococcal Conjugate Vaccine 10 (PCV-10), two years ago. He
has since denied wrongdoing
and claimed that his choice even saved the government money.
—Trisha Macas/NB, GMA News