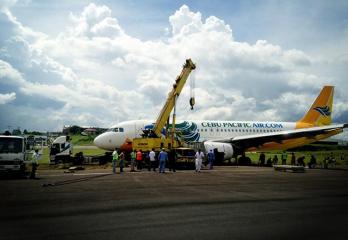 CebuPac plane's nose mounted on truck, towing to follow . The nose of the Cebu Pacific plane that skidded off the runway of the Francisco Bangoy Int'l Airport in Davao City is mounted on a truck's bed before it is towed out of the runway on Tuesday. All flights to and from Davao still remains canceled due to the incident. Karlos Manlupig
(Updated 8:43 p.m.) The runway of the Davao International Airport — closed since Sunday night after a Cebu Pacific plane made an emergency landing — resumed normal operations Tuesday night, according to the Department of Transportation and Communications (DOTC).
In a tweet, the DOTC said Davao Airport's Runway 5/23 "resumed normal operations" at 8 p.m.
Cebu Pacific, for its part, said the disabled aircraft was finally removed from the runway and that the airline will resume its normal flights to and from Davao City starting Wednesday.
In an advisory posted on its Twitter account, the air carrier also reiterated its apology for the inconvenience caused by the plane's emergency landing.
"All Cebu Pacific (CEB) flights to and from Davao will be back to normal starting tomorrow, June 5, 2013, Wednesday, after its disabled aircraft was removed from the Davao Airport runway," it said.
Cebu Pacific said the Davao International Airport's runway was cleared at about 7 p.m. Tuesday, nearly 48 hours after the emergency landing.
On Sunday, Cebu Pacific's Flight 5J-971 made an emergency landing amid a downpour and blocked the airport's runway, forcing the closure of the airport until Tuesday evening.
It faces not only an investigation by the Civil Aviation Authority of the Philippines, but also a boycott by some of its customers, including Ateneo de Davao University, over the alleged inaction of its flight crew in tending to the passengers.
Cebu Pacific CEO Lance Gokongwei had already apologized for the incident. He thanked the flight crew for their presence of mind and handling of the immediate situation.
Cebu Pacific said it had brought in a team of experts from the Singapore Airlines Engineering Company to remove the aircraft.
All 165 passengers on board deplaned safely, it pointed out.
"We also thank the (CAAP) and the Davao International Airport authorities for their support, as we worked together for the earliest resumption of airport operations in Davao," Gokongwei said.
"Again, we would like to sincerely apologize to all those who were affected by the Davao Airport closure," he added. — KBK, GMA News