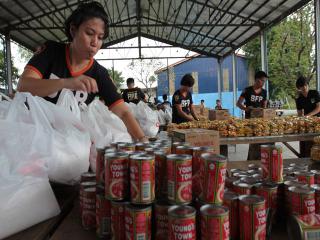 Typhoon Yolanda relief ops in Pasay. Volunteers are repacking relief goods at the DSWD ware house in Pasay City on Saturday, November 9, for the victims of typhoon Yolanda. DANNY PATA Danny Pata
As Cabinet Secretary Rene Almendras in a press conference on Sunday announced to gathered media that routes by land into Tacloban City have opened up, he also called on the public, especially those in Cebu to volunteer with the Department of Social Welfare and Development in repacking relief goods for those in Tacloban and other hard hit places.
"Cebu has been targeted as a logistics center, so DSWD is appealing for repacking volunteers in Cebu," Almendras said, noting that the DSWD in Cebu is in dire need of volunteers to help repack goods.
"We have to step it up, palakasin pa ang repacking sa Cebu, kasi it is our closest logistics center we have for repacking," he said. DSWD aims to give families food supplies enough to last at least five days, Almendras added.
– Patricia Denise Chiu / KDM, GMA News