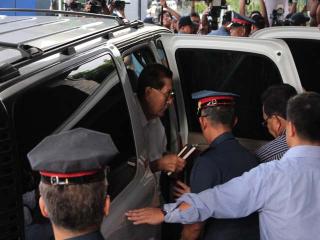 Enrile surrenders following Sandigan's arrest order. Senate Minority Leader Juan Ponce Enrile on Friday, July 4, arrives at Camp Crame in Quezon City shortly after the Sandiganbayan Third Division ordered his arrest in connection with the graft and plunder charges filed against him for allegedly pocketing kickbacks from his pork barrel. Roy Lozano
A day after undergoing a procedure to prevent blindness, Sen. Juan Ponce Enrile was brought to a Makati City clinic anew on Sunday.
Enrile was in a police convoy that headed for the Asian Eye Institute for a post-operative eye checkup, radio dzBB quoted GMA News' Rida Reyes as saying.
A photo on Twitter showed the convoy heading for Makati via EDSA.
On Saturday, Eneile underwent a procedure to address macular degeneration, which could lead to blindness if not treated.
The 90-year-old senator had been detained at the PNP General Hospital since Friday after surrendering there.
He faces graft and plunder charges over the alleged P10-billion pork barrel scam. — Joel Locsin /LBG, GMA News