At the opening of Go Hotels in Ortigas Center are Robinsons Hotels & Resorts general manager Elizabeth D. Gregorio, Pasig City Mayor Maribel A. Eusebio, Robinsons Land Corporation (RLC) president Frederick D. Go and Ortigas Center Association Inc. (OCAI) general manager Victor Buencamino.
MANILA, Philippines – Can you get a pleasant hotel room with good service in a central business district for P2,388 or less?
A block away from Robinsons Galleria is the eighth branch of Go Hotels, which is the chain's foray into the Ortigas Center. The 198-room hotel is located at Robinsons Cyberscape Alpha building on the busy stretch of Garnet Road. It's a comfortable and safe walk to corporate offices, banks and shopping centers, transport hubs and a few kilometers away from top hospitals.
Go Hotels is the "essential-service" hospitality brand of Robinsons Hotels & Resorts, Robinsons Land Corporation's leisure and hospitality arm. All the properties are furnished with Windsor beds that provide back support, high-thread-count sheets and duvets, chiropractic and fiberfill pillows to ensure the best sleep.
When freshening up, the double hot showers come with a packet of soap and shampoo. Unlike other budget hotels that charge for additional conveniences, Go Hotels offer free WiFi, cable television on large LED screens and a safety deposit box as part of its hospitality.
"We are known as a no-frills hotel, but we don't compromise on comfort," says Elizabeth Gregorio, general manager of Robinsons Hotels & Resorts.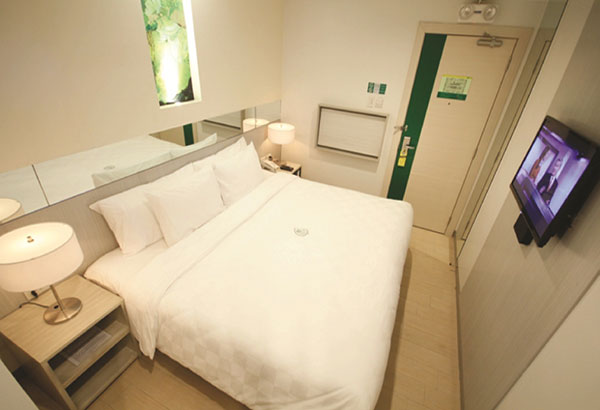 Ensuring the best sleep: The spacious rooms in Go Hotels are comfy and equipped with Windsor beds. The newly opened eighth branch is a block away from Robinsons Galleria.
Go Hotel Ortigas Center has added features that augur well for businessmen and corporate clients.  Entering the lobby, you are welcomed by bright interiors with vibrant graphic designs on the walls that veer from the cookie-cutter look.  Architect Ernesto Aquino chose a soothing pale-gray color scheme, which is also the trend in décor.
Lifestyle Feature ( Article MRec ), pagematch: 1, sectionmatch:
In some rooms, there's the unexpected frill of a king-size bed with plush sheets that could fit a family of four.  All bathrooms are situated at the back, with separate areas for the shower, lavatory and sink. The setup allows three people to do their morning rituals simultaneously.
Each floor is provided with more social space where guests can converge. Rooms for persons with disabilities are located on the second floor. The Venus Touch Spa offers a full body massage in your room for only P350, while The Grand Laundry Shop, B&P Restaurant and a vending machine for snacks and coffee offer convenient food and laundry services.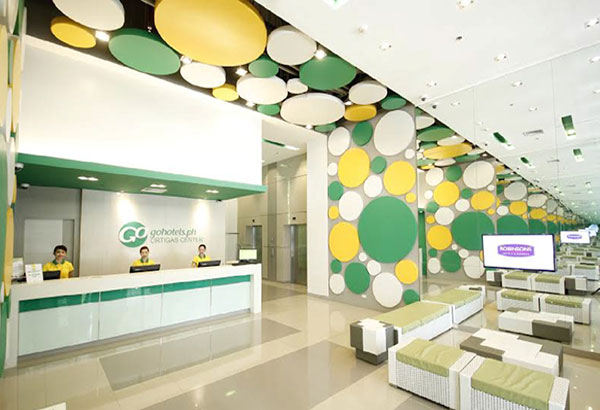 Bright and vibrant: The well-lit lobby is great for meeting with guests.
Go Hotels' strategy takes after the concept of its sister company Cebu Pacific, the pioneer in low-cost carriers in the Philippines. The strategy is to offer a lower price that covers the necessities and to charge for additional perks.   The hotel does away with extraneous meals, gym and sauna, swimming pool and business center.  It may charge for extras such as breakfast to be provided by B&P restaurant by the Cravings Group, toiletry kits, luggage room, transportation service to the airport and 10-day travel insurance. As in a low-cost airline, the pricing is dynamic. Best rates are available when booking early on its website at www.gohotels.ph. 
For information, call 0922-464-6835, 531-3585 or visit www.gohotels.ph.