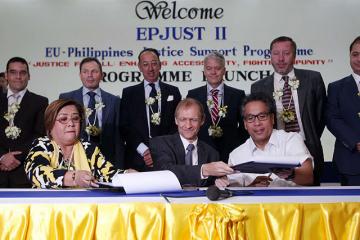 EU, PHL agree to expand justice reform program. Justice Secretary Leila de Lima (left), European Union Ambassdor Guy Ledoux (center), and DILG Sec. Mar Roxas II sign a memorandum of agreement expanding the EU-PHL Justice Reform Program. The EU will support the program with a euro 10 million (P570M) grant. GMA News
The European Union has earmarked P570 million or about €10 million to improve the Philippines' justice system to benefit the poor and disadvantaged people.
This was formalized Thursday through the launch of European Union-Philippine Justice Support Programme II (EPJUST-II), the third of similar funding programs by the EU in the country.
In his speech, Interior and Local Government Secretary Mar Roxas highlighted the importance of the financial support from the EU, particularly for poor Filipinos who could not afford the services of lawyers.
"With the assistance from the EU, we can address the justice situation in the country. We can help the poor and the voiceless. They would now be given this access and they can better realize their hopes and their rights as citizens of this country," he said.
Aside from giving poor Filipinos access to justice, the funding also seeks to address extra-legal killings and enforced disappearances.
For several years, human rights groups have scored the Philippines' dismal human rights record, particularly during the Arroyo administration when cases of extra-judcial killings soared to more than 1,000.
But when President Beningo Aquino III assumed the presidency in 2010, the United Nations noted a significant decrease in reported incidents of killings in the Philippines.
However, the US and the EU still complained of the existing "culture of impunity," slow-paced trials, scarce convictions, and other human rights violations in the Philippines.
For his part, EU Ambassador Guy Ledoux emphasized that the EU saw that the Philippine justice system is on the right track, and that the financial assistance is meant to empower the system further.
"The ultimate goal shall be to enable the justice system to fully play its role as the backbone of the democratic and economic system of the Philippines," Ledoux said.
"In any country of the world, you can always improve the justice system, improve how things are working. In the Philippines, the justice system is a very important sector, for finding equality, and respecting human rights. That is why the EU is providing assistance to this sector, in line with the Philippine government plan," he added.
The project will be implemented until 2016 with the Department of the Interior and Local Government (DILG) as the lead agency. The program will also funnel funds into projects proposed by the Department of Social Welfare and Development, the Supreme Court, the Commission on Human Rights, as well as civil service organizations. — with Michaela del Callar/KBK, GMA News