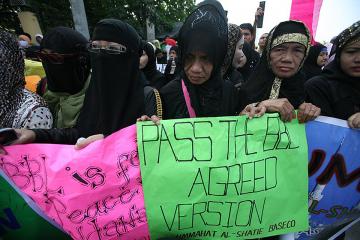 Muslims urge senators for immediate passage of BBL. Muslim women from several organizations in Metro Manila rally outside the Senate on Monday, January 26, to call for the immediate passage of the Bangsamoro Basic Law. Senator Ferdinand Marcos Jr. on Monday said he is calling for the suspension of hearings on the BBL following the deaths of at least 37 policemen in an ambush on January 25 in Mamasapano, Maguindanao by MILF fighters. Danny Pata
The establishment of the Bangsamoro territory will reduce the sovereignty of the Philippine government, a former Supreme Court justice said Monday.
"My understanding of the Bangsamoro Basic Law and the Comprehensive Agreement on the Bangsamoro is that the Bangsamoro government may change what presently exists in the Philippine government. If I am wrong, I will be very happy to be corrected," Justice Florentino Feliciano said during the hearing of the Senate committee on constitutional amendments and revision of codes.
Florentino said the statement that "the Bangsamoro authority shall remain a part of Philippine territory" should be given a more forceful meaning.
He added the provision on the Bangsamoro government having exclusive power on several aspects such as agriculture, livestock, food security, laws on foreign corporations, trade and industry, foreign investments, labor, freeports, banking system, education, public utilities operations, ancestral domain and natural resources, land management and distribution, Shariah courts and Shariah justice system, and education would result to reduction of the general sovereignty of the Philippine government. 
"Those powers are vested today in the government of the Republic of the Philippines, they cannot be taken from the atmosphere, they can be taken from our law. So what exists today in the government, you necessary reduce the authority," he said.
Feliciano said such changes can only be done if Congress convenes itself into a Constituent Assembly. 
"Changing the Constitutuin is a serious business, it is not something you sleepover the weekend," he said when asked by Senator Teofisto Guingona III if Congress cannot deal with the changes in its legislative authority but as a Constituent Assembly.
SC Justice Vicente Mendoza said there is no separation of state in the proposed Bangsamoro government, therefore no checks and balances.
"With the parliamentary system, the executive function is with the Cabinet. Majority of the members of the Cabinet are members of the parliamentary. There is no separation of power between the law making and executive branches of that government," he said.
He added that it is odd that the Philippines has a presidential form of government while the proposed Bangsamoro government will have a parliamentary form of government.  
"Since the national government has a presidential form of government, the local governments must also have a presidential form of government. It is an odditive or an anomaly that the national and local governments have different forms of government. I find the proposed BBL contrary to the mandate of the Constitution," he said. — RSJ, GMA News