The first female supervising animator at Pixar Animation Studios is a Filipino-American.
Gini Santos, the studio's lead animator for the upcoming Disney Pixar movie Coco, is responsible for earning rave reviews about the animation and graphics work shown in the movie's trailers.
The 31-year-old Pixnoy (Pinoys working at Pixar) has been with the studio since 1996 when she began working as a character animator for Toy Story 2. Her film animation credits also include Finding Nemo, Monster's Inc., The Incredibles, A Bug's Life, Ratatouille, Up, Lifted and Brave.
She was nominated in 2004 for an Annie award for her detailed lifelike animation on Finding Nemo, and was nominated by the Visual Effects Society for an award for this project as well.
In a media briefing in the Philippines, Santos talked about how Coco reminded her of Filipino culture.
"I was able to relate because I felt that the dynamic of the family was the same that we had here. And you know, the example of like in the States or in the Western world, your personal space is really big. Whereas here in the Philippines, your personal spaces are really tiny. Like, people stand really close to each other on the streets. And even for family members, that's also the case," Santos said in a Rappler report.
The University of Santo Tomas Fine Arts graduate also revealed how she is faring as a female leader in the male-dominated animation industry.
"I think my struggle was just trying to get my voice to be heard. Because it's such a new thing, and I tended to not actually speak that loud because I'm like, 'Oh, I'm gonna wait until I say the perfect thing,'" she admitted.
Read Related Story: Zootopia cohead Josie Trinidad praised for good work
Santos realizes how Pixar has welcomed their first female lead animator: "They don't look at you as a woman in the room, they've had to actually make adjustments to be like, 'Hey.' And it's not that they're purposefully doing it, there's an awareness that I feel like men have to kind of realize that hey, you need to address the woman in the room. And Pixar's really been making adjustments to kind of educate us a little better."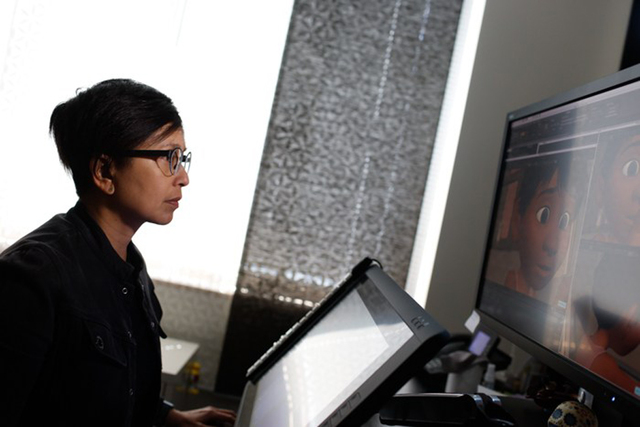 "Pixar has definitely been very active and just trying to support the diversity that we have now. I'm feeling like hopefully having a woman as a lead will encourage other women to come through the ranks, knowing that there's a woman in the room with them who could be supportive too," she added.
Santos' Coco, a movie inspired by the Day of the Dead in Mexico, will screen in theaters beginning November 22.
The post Fil-Am Gini Santos is lead animator for Disney Pixar movie Coco appeared first on Good News Pilipinas.