Filipino math students won two championship trophies, 3 runner up finishes, and brought home 6 golds, 7 silvers, and 11 bronze medals for individual members of the Philippine delegation at the 4th Malaysia International Mathematics Olympiad (MIMO) 2017.
The Pinoy kids were also bagged 3rd best performance in the Middle Primary Level Team Category.
The Philippine team went up against a total of 1,136 students from Australia, Bulgaria, China, Hongkong, Indonesia, Kazakhstan, Philippines, Singapore, Taiwan, Vietnam and from 134 Malaysian schools which participated in MIMO 2017.
The selection of Philippine Team members and participation to MIMO 2017 were facilitated by the Asian MathSci League Inc. (AMSLI) Philippines.
The awardees list as released by AMSLI:
Middle Primary (Grades 3 & 4) Individual Category Gold Medalists:
Sean Elliott Monzon (St Stephen's High School)
Reuben Joseph Felix & Aiden Jomeil Bercilla (De La Salle Lipa Integrated School)
Juan Sebastian Viernes (Makati Hope Christian School)
Silver Medalists:
Matthew Defensor (Solomon Integrated School de Iloilo)
Maru Adrian Robles & Alonzo Alvarez (De La Salle Lipa Integrated School)
Alexander Peter Benedict Lomibao (Ateneo de Manila Grade School)
Bronze Medalists:
Yosef Izak Kiak (St Stephen's High School)
Ayden Kenzie Chan (Uno High School)
Julian Miles Panerio (Ateneo de Iloilo)
Ma. Marju Jeremiah Sobeza (Solomon Integrated School de Iloilo)
Danise Maydelle Fible (Cresente P. Chavez Central School, Guimaras)
Loviña Mia Suguitan (University of the Philippines Integrated School)
Matthew Andrei Go (Ateneo de Cebu)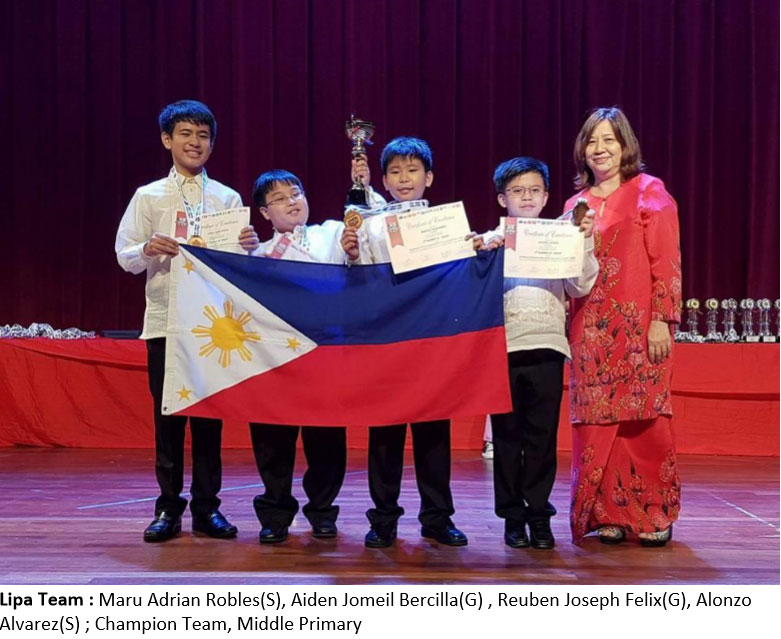 Team Category Champions Lipa Team:
Maru Adrian Robles
Alonzo Alvarez
Reuben Joseph Felix
Aiden Jomeil Bercilla
NCR A Team:
Alexander Peter Benedict Lomibao
Althea Vizanne Tambaba (Placido Del Mundo Elementary School)
Angela Clare Tan (Tarlac Living Faith Academy)
Loviña Mia Suguitan
First Runner-Up NCR B Team:
Djiren Riel Abdao (Integrated Montessori Center)
Yosef Izak Kiak
Sean Elliott Monzon
Ayden Kenzie Chan
Second Runner-Up Iloilo Team:
Matthew Defensor
Julian Miles Panerio
Ma. Marju Jeremiah Sobeza
Danise Maydelle Fible
Overall Performance Second Runner-Up Lipa Team:
Maru Adrian Robles
Alonzo Alvarez
Reuben Joseph Felix
Aiden Jomeil Bercilla
Upper Primary (Grades 5 & 6) Individual Category Gold Medalists:
Jerome Samuel Tan (Makati Hope Christian School)
Jonathan Anacan (Alimodian Central Elementary School)
Silver Medalists:
Hans Dominic Gamboa (MGC New Life Christian Academy)
Wilmarc Samuel Galamay (Diliman Preparatory School)
Renzterton Sibal (Lourdes School of Mandaluyong)
Bronze Medalists:
Sandrene Rylie Sy (MGC New Life Christian Academy)
Chantal Jodi Filipino (Uno High School)
Lorenzo Franco Kasilag (Diliman Preparatory School)
Angela Kyra Salarda (Solomon Integrated School de Iloilo)
Team Category Second Runner-Up NCR A Team:
Sandrene Rylie Sy
Jerome Samuel Tan
Hans Dominic Gamboa
Chantal Jodi Filipino