The first tandem bamboo bike that goes on a zipline can be found in Puerto Princesa City, Palawan.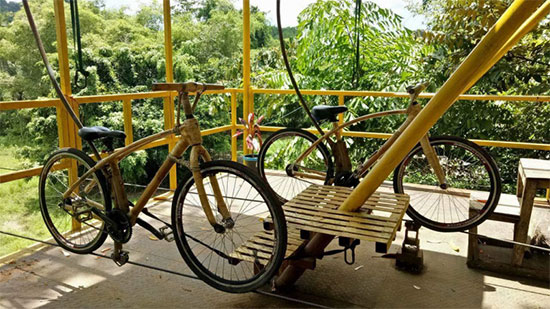 The Bamboo Zip Bike adventure combines the experience of riding a bamboo-framed bike and ziplining 90 feet from the ground on a 250-meter long high suspended wire.
Now the newest attraction at Ugong Rock in Puerto Princesa City, home of one of the New Seven Wonders of the World's Subterranean River, the bamboo bike adventure affords the adventure-seeking visitor a view of the Ugong Rock ecotourism spot which is touted to be a front runner in sustainable tourism in the province.
The tourist destination is managed by a group of indigenous people (IPs) in Palawan who have organized themselves as the Ugong Rock Multipurpose Cooperative (Ugong Rock MPC), with the help of ABS-CBN Lingkod Kapamilya Foundation and the Community-based Sustainable Tourism Program of the Puerto Princesa City Tourism Office, through a grant from the Department of Science and Technology's (DOST) flagship program Small Enterprise Technology Upgrading Program (SETUP).
The Ugong Rock MPC acquired zip bike facilities such as bike lanes, cable wires, harness, and handmade bamboo bikes. KawayanTech in San Jose, Tarlac suplied bamboo bike frames with two support cords, for safety.
The SETUP assistance has allowed them expand their tourism activities from famous spelunking and zip line adventures and now to include a unique bamboo bicycle experience.
In addition to providing the tourists an unforgettable experience, Ugong Rock focuses on developing activities that raise environmental awareness and promotes sustainable management of natural resources.
You can ride the bamboo zip bike for only Php 500.00. This includes a souvenir photo of you on the bike to remind you of the experience. Ugong Rock's Bamboo Zip bike supports sustainable tourism in Palawan and is the beginning of growing a green economy for the province. Every visit will not only satisfy your adventure gene but will also be able to help the local community.
The post First tandem bamboo bike zips through Puerto Princesa appeared first on Good News Pilipinas.