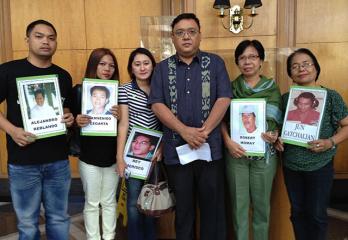 Relatives mark 4th year of unresolved Ampatuan massascre . Relatives of five of the 58 killed, including 32 journalists, in the Ampatuan massacre in Maguindanao on November 22, 2009, hold photos of their loved ones on Friday at GMA Network, as they mark the fourth year of the tragedy. Also in photo is lawyer Harry Roque Jr (center). Joe Galvez
On the fourth year anniversary of the November 2009 Maguindanao massacre, several complainants led by a Southeast Asia-based group advocating for freedom of expression filed a petition before three United Nations (UN) Special Rapporteurs to compel the Philippine government to speed up the investigation and prosecution of 196 individuals involved in the case.
At a press conference held Saturday at the University of the Philippines College of Mass Communication, representatives from Media Defense Southeast Asia (MDSEA) on Saturday transmitted separate petitions via e-mail to the UN Special Rapporteur on Freedom of Expression, the UN Special Rapporteur on Extrajudicial and Arbitrary Killings, and the UN Special Rapporteur on Reparations calling them to look into the cases of the massacre victims.
A total of 58 people, including 32 journalists, were killed in the grisly 2009 massacre, considered as the worst single-day election-related violence in Philippine history and the single worst attack on journalists ever recorded in the world. 
The victims were part of a convoy that was supposed to accompany then-Buluan Vice Mayor Esmael Mangudadatu when he was going to file his certificate of candidacy to run as governor against then-incumbent Maguindanao governor Andal Ampatuan Sr. in the 2010 automated polls. 
They were then stopped at a checkpoint at Sitio Masalay in Barangay Salman, Ampatuan town, and gunned down by armed men led by the Ampatuans. Mangudadatu eventually won the gubernatorial seat.
88 still roam free
Data obtained by GMA News Online shows that only eight suspects in the murder have been  arrested this year, with the remaining
88 out of the total 196 accused
are still at large and free, four years after the grisly killings.
At present, seven Ampatuan clan members remain at large while eight Ampatuans, including patriarch Andal Ampatuan Sr., as well as his three sons, Andal Jr, Rizaldy, and Sajid, have been arraigned.
On Friday, complainants led by the families of the 58 victims filed a petition before the UN  Human Rights Committee demanding compensation from the government for its failure to protect the victims' right to life.
In a report aired on "24 Oras" Friday, the complainants' lawyer, Harry Roque, said they were left with no choice but to go to the UN for assistance because of President Benigno Aquino III's refusal to compensate the victims' families.
"Ang eksplanasyon po ng Malacañang hindi po sila ang responsable sa massacre kaya hindi sila magbabayad ng kompensasyon. Pero ang sinasabi nga po namin, sa ibang administrasyon man nangyari ang massacre, iisang estado pa rin ang lumabag sa karapatang mabuhay [ng mga biktima]," he said.
Aquino also told the victims' families during their last meeting that the government cannot grant them compensation due to lack of funds, Roque said.
Despite slow pace, there is hope
Some of the victims' relatives expressed hope during the commemoration activities for the Maguindanao massacre that the case will eventually be resolved despite the slow progress of the case.
"Kahit na mabagal ang takbo ng kaso, umaaso pa rin po kami na may hustisya talaga. Dapat naman po yung presidente natin, bilang nasa kanya lahat ng power parapabilisin yung kaso pero hindi niiya ginamit," said Juliet Evardo, widow of slain UNTV editor Jolito Evardo.
Evardo said she and the families of the other victims hope their quest for justice for would not fall on deaf ears.
"Para sa pangulo, sana wag kang magbingi-bingihan [sa amin]," she said.  
— Xianne Arcangel / KDM, GMA News