One of the backpacks featured in "Carrier of Tradition," from the collection of ARMAND CATING
MANILA, Philippines – BenCab Museum presents ancient, vintage and contemporary backpacks in "Carrier of Tradition: Backpacks of the Northern Philippines," which is on view until Feb. 6 at BenCab Museum, Km. 6 Asin Rd., Tuba, Metro Baguio.
"Carrier of Tradition" features more than three dozens rare and atypical specimens from the collection of Armand Voltaire B. Cating.
In the show, the Cordillera hand-woven backpack or pasiking is highlighted and deconstructed, unveiling weave and nuance, baring the life of the weaver and the wearer.
For inquiries, call (074) 442-7165, email bencabartfoundation@gmail.com. or visit www.bencabmuseum.org.
* * *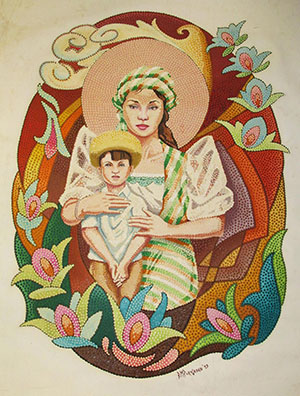 An artwork by Ricarte Puruganan
Ricarte Puruganan at the Paseo de Paoay
Lifestyle Feature ( Article MRec ), pagematch: 1, sectionmatch:
The Ilocos Norte government through Gov. Imee Marcos, in cooperation with Dr. Joven Cuanang of Pinto Art Museum, present "Ricarte Puruganan: The Filipino as Modernist," which opens on Dec. 27 at Paseo de Paoay in Paoay, Ilocos Norte.
The show features seminal pieces of the artist's unique style that combines indigenous and folk art elements, and modernist flatness and painting methods. The show runs until Feb. 27, 2015.
Ricarte Puruganan is one of the Thirteen Moderns, a group of trailblazing Filipino artists who broke away from academic and conservative styles of painting in the 1930s.
For details, call Ian at SMS 0947-9926218 or Pinto Art Museum at 697-1015.
* * *
Oscar Villamiel at Light and Space Contemporary-Fairview

"Mga Damong Ligaw" by Oscar Villamiel
Oscar Villamiel reflects on the current political situation of the Philippines in "Mga Damong Ligaw," which is on view at Light and Space Contemporary, 53 Fairlane St., West Fairview, QC.
Villamiel's installation work is comprised of native bullhorns sprawled throughout the gallery, which appear like wild weeds (damong ligaw) when viewed from a certain perspective.
For inquiries, call 239-8202 or visit www.lightandspace.ph.
* * *
Mark Salvatus at Artery Art Space
Mark Salvatus turns trash into structures that defy logic and gravity in "World Cup," which is on view at Artery Art Space, 102 P. Tuazon Blvd., Cubao, QC.
For information, call 725-2837 or visit www.arteryartspace.com.
* * *
'Woven Universes' at Yuchengco Museum
Yuchengco Museum presents "Woven Universes," which is on view until February 2015 at the Third Floor Bridgeway Gallery, Yuchengco Museum, RCBC Plaza corner Ayala and Senator Gil J. Puyat Aves., Makati City.
Textiles from various Philippine indigenous groups have been selected from a private collection to highlight the aspects inherent to the creation and usage of the pieces.
For information, call 889-1234 or email info@yuchengcomuseum.org.