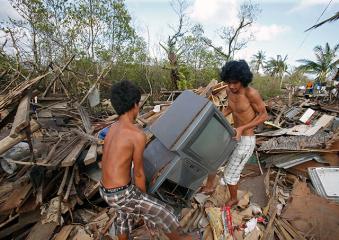 Ruby victims in Samar rise from the rubble. Typhoon victims on Tuesday, December 9, recover a television set from the ruins of a house destroyed by Typhoon Ruby (Hagupit) in San Julian, Eastern Samar on December 6. Emergency workers are struggling to reach coastal villages on an island hardest hit by Ruby where thousands of homes have been wrecked by powerful winds and a storm surge rising three to four meters (10 to 13 feet). Reuters/Erik De Castro
The national government and aid agencies rushed relief supplies Wednesday to hundreds of thousands of people displaced by a powerful typhoon, as survivors sifted through debris to rebuild their lives.
Military cargo planes will make eight deliveries to worst-hit Samar, a poor farming island in the central region, while two Red Cross convoys will deliver thousands of food packs, water purifiers, blankets and hygiene kits, officials said.
"We are catching up on food delivery, especially in the far-flung areas, isolated areas in the mountains… We will strive to deliver to these areas today," Social Welfare Minister Corazon Soliman said in a televised briefing.
An estimated 390,000 people, mostly in Samar, need food and temporary shelter assistance, Philippine Red Cross Chairman Richard Gordon told AFP.
Ruby left over two dozen people dead, the Red Cross said, after it slammed the central region with 210-kilometer (130-mile) per hour winds over the weekend and brushed past the capital Manila.
Over a million fled to shelters ahead of the storm as authorities avoided a repeat of the devastation by Super Typhoon Haiyan last year, in which more than 7,350 were killed.
Interior Minister Manuel Roxas earlier said at least 200,000 people on the island needed help.
Roxas, who is overseeing the government's typhoon response, said in the same briefing that airports were and main roadways have been cleared for the relief operation.
A "human conveyor belt" was set up in one area to replace a damaged bridge that blocked aid delivery, Roxas said.
After the wave of food aid, the Red Cross will deliver 10,000 galvanized iron roof sheets to those who lost their homes," he said.
Gordon said there would be "sporadic" increases in the death toll but the final count will be "nowhere near" Haiyan, the strongest storm to hit land ever recorded.
Ruby totally damaged 6,200 houses and partially damaged 7,300 others, Roxas said.
In Catbalogan, a major city on Samar island's western side, thousands have started to sift through debris under the hot sun to rebuild their homes, mayor Stephany Uy-Tan told AFP.
"Daily existence here is a struggle for those who are affected," she said.
But food relief from the national government had begun to arrive as roads were cleared were debris, she added.
Before Ruby struck, close to 21,000 people, or one-fourth of the city's population, were moved to shelters in an unprecedented evacuation effort, she said.
"We had a long time to prepare, that's very important," Uy-Tan said.
Nearly 1.7 million people sheltered in evacuation centers as Ruby passed their areas, according to government figures, and aid agencies hailed the strategy as a template for coping with future disasters. — Agence France-Presse