MANILA, Philippines – Shake, Rattle & Roll (SRR) has never ceased and failed to scare and thrill audiences from age one to 92 in many past Christmases via the Metro Manila Film Festival (MMFF). The Regal Entertainment's movie franchise and iconic trilogy is part of every child's entertainment experience, giving himself some sort of horror-thriller 101 early on in life. SRR introduced me, as a child growing up in the '80s and as a pre-teener in the '90s, to fantastical, mythological and elemental figures, which were different from the characters I had acquainted myself with in melodramas.
When the first-ever SRR was screened in theaters in 1984, I was only six then and being accompanied by mom and her sisters in the movie house. I can still recall how the gorgeous Irma Alegre will transform into a flesh-thirsty nocturnal creature attacking the nerd-looking Herbert Bautista and family in the Manananggal episode, directed by Peque Gallaga. The highlight is the confrontation between the half-body flying Irma and Herbert, who kills the former by finding the creature's lower body and putting salt in it. The good triumphs over the bad — and the evil — at the break of dawn.
The Pridyider episode sees the charming Janice de Belen and family moving into a new house. Unknown to them is a ghost inhabiting inside the refrigerator and possessing it. Eventually, Janice is lured by the ref but she succeeds to save herself from becoming its next victim. The Ishmael Bernal helmed it.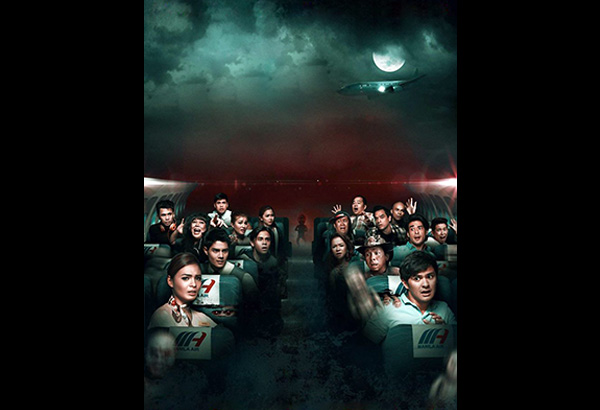 Lovi Poe and Matteo Guidicelli lead the cast in Flight 666
The danger of playing spirit of the glass is explored in Baso of Emmanuel "Maning" Borlaza. The flashback-driven episode presents more about the "game" as the spirit connects the living with their past. A horrifying revelation awaits the characters at the end.
With that, SRR has been part of everyone's folklore education which makes Pinoy horror genre unique in terms of scary tactics and sense of grim and terror. This tradition of shaking the audiences with mythical creatures, rattling them by introducing these characters and rolling them when these monsters start wreaking havoc on their unsuspecting victims continues with Shake, Rattle & Roll XV (SRR XV), which will hit the theaters on Dec. 25. As a wont, the audiences are in for a triple treat. First stop is Flight 666, starring Lovi Poe, Matteo Guidicelli and Daniel Matsunaga and directed by Perci Intalan.
"It's not just my character who is interesting, but also the whole story. We shot it in a real plane, which is a beautiful setting for me. At hindi pa tayo naaalis sa Filipino folklore, Kasama pa rin (ito) sa story," says Lovi, who is a flight attendant in the episode.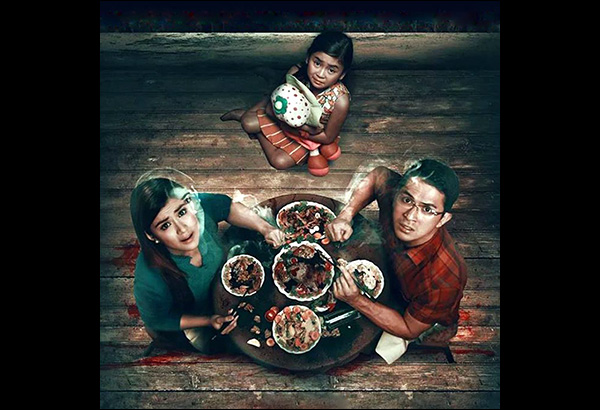 Carla Abellana and Dennis Trillo topbill Ulam
Taking a clue from the title, Flight 666 is en route to a possible air catastrophe, where the passengers will be hijacked by some entities that have passed through the immigration undetected. The smooth-sailing flight will be interrupted by a plight that changes the entire travel course. What one can look forward to is how the passengers and crew will make the flight stable and reach their destination all safe and sound. After all, what goes up must come down.
"With horror, I find it difficult because I'm naturally like this, (I'm) very chill when I speak. When I need to shout, I have to exert much more effort every time," says Lovi, who wishes to make another horror movie, similar to those of Thai and Japanese, with boyfriend Rocco Nacino. "For me, I enjoy drama more," she adds."It's something therapeutic which allows me to express (emotions) I can't release in real life. (Horror) is not so tiring when it comes to emotions. It's physically taxing."
From cruising the altitude of 37,000 feet, SRRXV will go to familiar places such as the mall and home. Ahas, megged by Dondon Santos, retells a popular story that a gargantuan python lurks in a shopping mall, where men and women are vulnerable. Based on the trailer, the lead star Erich Gonzales seems to be privy to this secret, which propels all the action (like screaming and chasing) in the movie. The characters played by JC de Vera and Melai Cantiveros are in for some labyrinth action. Jerrold Tarog is the episode director.  
The episode Ulam, starring Dennis Trillo and Carla Abellana, is a psychological thriller which reminds one of how some kind of witchcraft can be done through food. This is similar to that palipad hangin kulam which is also potent in hurting others. The extra special ingredient that has been added in Dennis and Carla's meals transforms them into some creatures even their imagination cannot fathom. 
In the past, we have seen SRR the franchise successfully blending film technology (state-of-the-art visual and aural special effects) and film techniques (accessible storytelling and close-to-home stories) in keeping the young and the young-at-heart interested in horror-thriller. The XV edition will bank on these in — time and again — giving movie watching a different feel and experience. SRR is at it again.