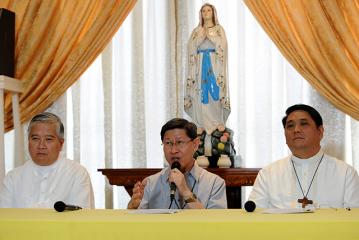 CBCP confirms Pope Francis' visit in 2015. At the CBCP office in Manila on Monday, July 7, Dagupan Archbishop Socrates Villegas (left), Manila Archbishop Luis Antonio Cardinal Tagle (center) and Pasig Bishop Mylo Vergara brief members of the press on the planned visit of Pope Francis to the Philippines in January 2015. Pope Francis will visit the victims of Typhoon Yolanda in the Visayas. AFP/Jay Directo
Alleged pork barrel scam mastermind Janet Lim Napoles wants the Catholic Bishops' Conference of the Philippines to take her into custody, GMA News' Balita Pilipinas said on Monday.
According to the newscast, Napoles wrote a letter to the CBCP to make her appeal but the latter has yet to respond.
Napoles' lawyer Stephen David said his client believed that she would be safer with the clergy.
Lingayen-Dagupan Archbishop Socrates Villegas, the president of the CBCP visited Napoles when she was confined at the Ospital ng Makati.  He did so upon the invitation of Napoles' relatives. 
"The family of Mrs. Janet Napoles requested for prayers and blessings for fast recovery. As a priest I went there," Villegas said.
But the prelate said he reminded her that "the blessing [would] only give healing if she [told] the whole truth without being selective."
The businesswoman was known to be close to religious people as she held masses at her office in Discovery Suites and during special occassions at the mausoleum of her mother Magdalena Luy Lim at Heritage Park in Taguig.
Napoles also owns Bahay ni San Jose in Magallanes Village in Makati City.  Priests from China and Monsignor Josefino Ramirez, the former rector of Quiapo Church, stayed at the said house.
Ramirez said that Napoles herself gave P2 million to Caritas Salve Savings and Livelihood with Values Education Credit, a micro-finance program under Caritas Manila.
He also received P434,451 from Napoles for a travel to Rome, but the amount was not only for him but also for the four Chinese priests who represented China to the World Apostolate Congress of Mercy (WACOM) in Rome.
—Amita O. Legaspi/NB, GMA News