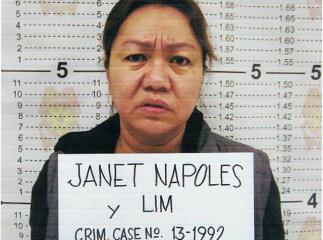 PNP releases Napoles mug shot. The Philippine National Police on Thursday, August 29, released the mug shot of Janet Lim-Napoles at Camp Crame following her surrender to President Aquino on Wednesday night, August 28. Napoles's surrender came hours after the President offered a P10M reward to anyone who could give information that will lead to her arrest.
Janet Napoles, the trader tagged as the brains behind a P10-billion pork barrel scam, had prison food for lunch at the Makati City Jail Friday noon.
The decision to serve Napoles food prepared by the prison was part of precautionary measures to ensure her safety, radio dzBB's Manny Vargas reported.
Napoles, who was brought to the jail from Philippine National Police headquarters in Camp Crame before midnight Thursday, was served "ginisang toge at tokwa," the report said.
Jail officials were quoted in the report as saying Napoles liked the food.
The report quoted officials as saying serving Napoles prison food was part of strict security measures due to possible threats to her life.
Jail officials are wary of the possibility that food brought in from the outside could be poisoned, it added.
Napoles surrendered to President Benigno Aquino Wednesday, hours after Aquino announced a P10-million reward for information leading to her arrest.
Her lawyer Lorna Kapunan said this was due to Napoles' fears that some groups were out to silence her.
While Napoles stayed at Camp Crame on Wednesday night, the Makati City court that ordered her arrest for serious illegal detention ordered her transferred to the Makati City Jail. — LBG, GMA News