Defense Secretary Voltaire Gazmin said the military is now confirming reports that Jemaah Islamiyah leader Zulkifli bin Hir also known as Commander Marwan was killed in a day-long firefight between the Philippine National Police (PNP) and the Moro Islamic Liberation Front (MILF) in Mamasapano town in Maguindanao on Sunday.
"Well, we have no confirmation but that was the report we got last night…According to reports they (PNP) were able to neutralize one of them, si Marwan, although 'yung isa nakawala, 'yung si Basit Usman," Gazmin told reporters in Camp Aguinaldo on Monday.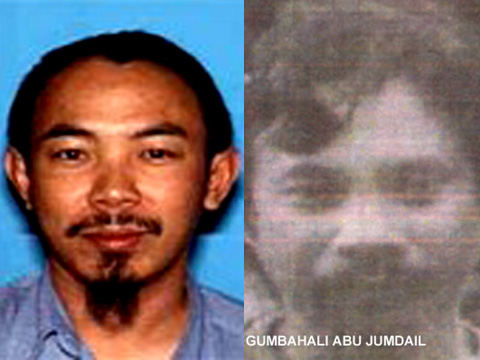 File photo shows Zulkifli bin Hir alias Marwan (L) and Abu Sayyaf leader Umbra Jumdail (R). AFP photo
Gazmin said he, Interior and Local Government Secretary Mar Roxas and PNP officer-in-charge Deputy Director General Leonardo Espina will go later on Monday to Maguindanao and Cotabato to assess the situation and to confirm the report about Marwan's death.
"We will validate that (report). I am going to Cotabato today so that I can get more accurate information to be able to disseminate to you," Gazmin said.
In a report sent to Espina on Sunday, the SAF director, Chief Superintendent Getulio Napenas Jr., said the SAF operatives were able to "neutralize" Marwan at around 2:30 a.m. on Sunday during the encounter in Barangay Tukanalipao, Mamasapano.
Napenas, however, reported that Marwan's body was left in the area due to the heavy volume of fire coming from the side of the rebel groups.
Marwan is one of the most wanted JI leaders operating in Southeast Asia. He was believed to be involved in several bombing and terror attacks in Mindanao involving the JI-assisted Abu Sayyaf group. The US Federal Bureau of Investigation (FBI) has recently offered $5 million bountry for his capture.
Meanwhile, foreign-trained bomb maker Abdul Bassit Usman is a Filipino rebel belonging to the Abu Sayyaf group. He was also believed to have links with JI and the Islamic extremist group, al-Qaeda.
The US FBI has earlier offered $1 million bountry for his capture.
The SAF reportedly conducted the operation in order to serve the warrant of arrest to Marwan whose presence has been confirmed in the area.
MILF chief peace negotiator Mohagher Iqbal, however, said the SAF operatives did not coordinate with the MILF before conducting the operation. Iqbal said the SAF men also engaged the MILF troops in a firefight. According to reports, the MILF troops were later joined by another rebel group, the Bangsamoro Islamic Freedom Fighters (BIFF).
The BIFF is a splinter group from the MILF.
Gazmin, meanwhile, denied reports that the PNP did not coordinate with the military before conducting the operation.
"Hindi. Nag-coordinate naman at the tactical level. Pero siguro, because time is of the essence, nandiyan na 'yung target, nandiyan na 'yung operation, kulang na sa oras. (Pero) pinagsabihan pa rin 'yung Army na nadaanan nila so there was coordination," Gazmin said.
—Elizabeth Marcelo/KG, GMA News