Former Philippine Export Zone Authority (PEZA) Director-General Lilia B. de Lima and the Philippine Educational Theater Association (PETA) have been given the Ramon Magsaysay Award for transformative leadership in Asia.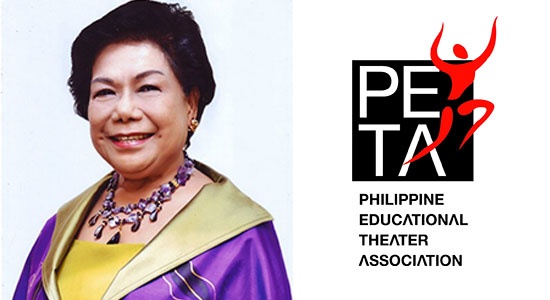 De Lima was cited by the Ramon Magsaysay Award Foundation for "Harnessing sustained, non-stop and credible public service."
The first PEZA chief who led the agency for 21 years – from 1995 until her retirement in 2016 – is credited for turning the organization into "a showcase of successful regulatory reform, a model institution of honest and committed public service, and a key contributor to the nation's economic growth."
The Director-General was charged with promoting and regulating foreign investments in the country's economic zones.
During her term, PEZA's accomplishments include: the number of PEZA ecozones increased by 2,000%, from the initial 16 she inherited to 343 by 2016; the number of registered enterprises rose from 331 to 3,756; investments reached PhP 3 trillion; and ecozone exports totaled US$ 629 billion.
In electing Lilia B. de Lima to receive the 2017 Ramon Magsaysay Award, the board of trustees recognizes "her unstinting, sustained leadership in building a credible and efficient PEZA, proving that the honest, competent and dedicated work of public servants can, indeed, redound to real economic benefits to millions of Filipinos."
Reflecting on her career, she says: "I cannot solve the problems of the world but if in my own little area I can make a difference, then I must make that difference." Words that according to RMAF, should be, "For all workers in government, it is a credo to follow."
Joining De Lima in the roster of 6 Magsaysay Awardees for 2017 is the non-profit organization PETA, cited for "Empowering communities for development action through theater arts."
PETA's election into the Magsaysay Awardees is marked by its celebration of 50 years of presenting community-based productions.
From a vision of creating a national theater, "It is today an integrated, people-based cultural collective engaged not only in performance but also in training, curriculum development, national and international network building, and mobilizing communities using a participatory approach that is rooted in local culture and responsive to real issues in the larger society," RMAF describes the PETA in its citation highlights.
PETA is credited for taking the lead in the Greater Mekong Sub-region Partnership, which mobilized, mentored, and supported a host of performing artists from Cambodia, Laos, Myanmar, Thailand, Vietnam, and southern China to effectively undertake advocacy-through-the-arts on issues that included gender, health, sexuality, and HIV-AIDS.
PETA has produced 540 original, translated, or adapted plays, reaching an audience of close to a million across the nation and abroad; it has helped form more than three hundred community-based culture collectives; and conducted training workshops that have involved 4,650 artists, school teachers, community leaders, and development workers.
PETA president Cecilia B. Garrucho asserts, "Our vision is to have a nation of fully-actualized citizens, creative, and able to find a way, a solution, even when it seems like there is none."
In electing the Philippine Educational Theater Association to receive the 2017 Ramon Magsaysay Award, the board of trustees recognizes "its bold, collective contributions in shaping the theater arts as a force for social change, its impassioned, unwavering work in empowering communities in the Philippines, and the shining example it has set as one of the leading organizations of its kind in Asia."
The post Lilia de Lima, PETA group are Asia's Nobel Prize awardees appeared first on Good News Pilipinas.