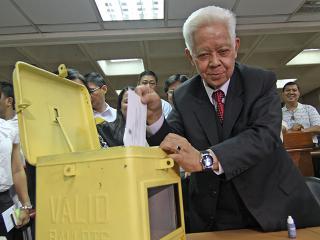 Poll chief Brillantes casts vote 14 days ahead of Election Day. Comelec Chairman Sixto Brillantes Jr. casts his vote on the second day of the local absentee voting at the poll body's head office in Intramuros, Manila on Monday. Government officials and workers, including police and military personnel, and, for the first time, approved, media practitioners who will be on duty on Election Day, are allowed to exercise their right of suffrage in advance. Danny Pata
Even as he has yet to receive the final report on the recently-concluded three-day local absentee voting, Elections chairman Sixto Brillantes Jr. is not satisfied with the low turnout of voters in the electoral exercise.
In an interview with reporters Wednesday, Brillantes said that based on initial figures, the registration and number of those who voted was lower compared to the 2010 elections.
"Definitely hindi ako satisfied. Hindi maganda ang registration dahil lumiit compared to 2010, lumiit ang registration from 33,0000 I think in 2010, ngayon 18,000 lang. Tapos ang turnout hindi ko alam kung gaano kalaki," he said.
Of the 18,332 who registered for this election's local absentee voting, only 12,732 were found qualified to vote. The local absentee voting was conducted from April 28 to 30.
Data from the Comelec-National Capital Region showed that of the 366 media personnel who registered for local absentee voting, only 200 availed of the privilege.
In the past, only government officials and employees, and members of the National Police and Armed Forces who are temporarily assigned to perform election duties in places where they are not registered voters were allowed to be absentee voters.
"Now included na ang media and yet mababa pa rin (ang turnout)," said Brillantes. 
Still, the poll chairman said the low turnout was somehow expected because that is always the case during midterm elections.
"Generally, maski sa overseas (absentee voting mababa ang turnout)," he said.
Preview of May 13 turnout?
Because of this, Brillantes expects a low turnout of voters on May 13.
"We also expect maski na sa actual election day not as high as 2010 (ang turnout)," he said.
The poll chairman expects to receive the report from Committee on Local Absentee Voting head Atty. Betty Pizana on Friday.
— Amita Legaspi/RSJ, GMA News