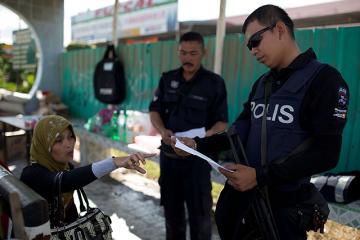 Malaysian cops check papers of Sabah residents. Malaysian policemen check a woman's documents during a security check in Lahad Datu on Monday, March 11. Malaysian police shot dead a teenager and injured a man on March 10 as they try to end a month-long incursion by Filipino gunmen in remote Sabah state that has seen 62 people killed. AFP/Mohd Rasfan
Malaysian police believe Raja Muda Azzimudie (Agbimuddin) Kiram, brother of Sulu Sultan Jamalul Kiram III, is still alive and in the Lahad Datu district in Sabah and likely could not get past the tight cordon there, a Malaysian news site reported Wednesday.
Sabah police commissioner Datuk Hamza Taib also said Agbimuddin is not likely to abandon his followers, who remain the subjects of Malaysian mopping-up operations, The New Straits Times reported.
"That is why we have a high confidence that he is still here. Our security at sea is very tight and there is no way he could have escaped," the NST quoted him as saying.
Agbimuddin is leading the armed Kiram followers in Sabah.
Malaysian forces continue to hold operations in Sabah to flush them out, after Kuala Lumpur rejected a ceasefire offer from the sultan.
Teenage boy killed, considered a terrorist
Meanwhile, Hamza said a teenage boy gunned down at Sungai Bilis last Sunday was likely one of Kiram's followers.
Hamza said the boy was among the "terrorists" as he exited from the war zone area.
"We could not confirm whether he was a Malaysian or a foreigner as he did not have any identity document on him… As far as we believe he was a terrorist," he said.
Meanwhile, a separate report on The Star Online quoted Hamza as saying police will verify the identities of families living in Kg Tanduo before letting them return.
"If they have no rights on that land, we may not allow them (to return)," he said.