MANILA, Philippines – Radio-TV host and writer Jobert Sucaldito sent a friendly message through his Facebook account that promising young singer Michael Pangilinan, 18, of Pulilan, Bulacan agreed to volunteer his time with some 30 abandoned, abused, indigent old women at Abiertas House of Friendship (founded in the 1930s), which is situated on Santolan Road in Quezon City.
The recent Aliw Awards' Best Male New Artist awardee serenaded the elderly, ranging from 60 to 85 years old, and three pregnant women, with his songs.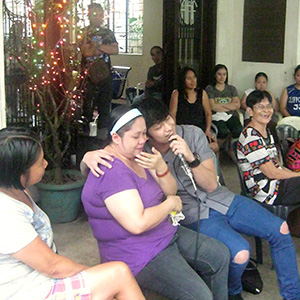 Michael serenading one of the residents of Abiertas
A lovely grandmother cried as Michael sang the song Hanggang. He then approached and hugged her to the rejoice of the women of Abiertas. He continued singing the song with much warmth and sincerity.
Later, Michael rendered a lively song to the delight of the audience. Some women danced with the music as emcees Jobert and Emy Casimiro of Citi (who will be getting married in April this year in Bali, Indonesia) were amazed and delighted.
When he finished singing songs, an old woman requested an album of him. He generously promised to give 30 albums to them that he already fulfilled as of press time. 
He, together with Jobert and The Philippine STAR columnist Wilson Lee Flores (owner of Kamuning Bakery), also provided merienda for them.
Entertainment ( Article MRec ), pagematch: 1, sectionmatch: 1
"Thank you for inviting us here. I hope you have enjoyed our small gifts," Michael concluded with a sweet, wide smile.