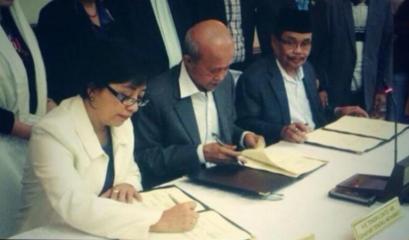 GPH, MILF peace panels sign wealth-sharing annex of peace agreement. Philippine government and Moro Islamic Liberation Front (MILF) Negotiators reached agreement over the weekend in Kuala Lumpur on wealth-sharing issues of their Framework Agreement for peace in Mindanao. www.opapp.gov.ph
The signing of a wealth-sharing peace agreement annex by the government and the Moro Islamic Liberation Front may not necessarily stop clashes in Mindanao, a senior MILF official admitted Sunday.
MILF vice chairman for political affairs Ghadzali Jaafar said that if the wealth-sharing agreement is not popular among the Bangsamoro, some groups could use it as an excuse to launch attacks.
"Kung hindi ito very popular sa mga Bangsamoro masses, lalo sa mga leader…, nangangamba ako na baka gawin nilang justification sa pagsagawa katulad ng sinagawa ng BIFF na pagsalakay kahapon hanggang kagabi," Jaafar said in an interview on dzBB radio.
He was referring to the Bangsamoro Islamic Freedom Fighters (BIFF) led by Ameril Umbra Kato, who the MILF had described as a rogue commander.
Kato had led attacks in Mindanao as early as 2008, when the Supreme Court thumbed down a Memorandum of Agreement on Ancestral Domain between the government and the MILF.
The BIFF launced attacks Saturday, ambushing a military truck in Guindulungan town in Maguindanao.
On Saturday night, the government and the MILF closed the 38th round of exploratory talks in Kuala Lumpur with the signing of the annex on wealth sharing.
"In a show of true commitment, the Parties extended the meeting, originally scheduled for four days to six days to be able to overcome their concerns and reach an agreement on the Annex.
"The Parties believe that the Annex, which forms part of the (Framework Agreement on the Bangsamoro), will provide sufficient guidance for the crafting of the Bangsamoro Basic Law's provisions on wealth sharing and revenue generation for the Bangsamoro as envisioned by the FAB," the government and MILF said in a joint statement.
Both sides also said progress was made by the Technical Working Group on Normalization and the special team on power sharing.
On the other hand, the Third Party Monitoring Team (TPMT), which will be responsible for monitoring the implementation of the agreements, held its first organizational meeting.
Under the agreement, the two panels agreed on a 50-50 sharing of energy resources, dzBB's Rowena Salvacion reported.
Both sides also agreed on taxing powers to be given to the Bangsamoro.
Following Saturday night's agreement, both sides will tackle annexes on power sharing and nationalization, the report added.
However, the two sides have yet to set dates for tackling these issues.
The report also quoted government panel head Miriam Ferrer as saying the annex on nationalization does not include disarmament of the MILF and integration into the police and military. — LBG, GMA News