For more than eight years now, Magic 89.9 DJs Slick Rick (Eric Virata), Tony Toni (Anthony James Bueno) and Sam YG (Samir Gogna) have been entertaining listeners with their radio program, Boys Night Out. They've become well-known for their naughtiness, frankness and wackiness in addressing relationship issues shared by their callers. The boys have even coined words that describe certain relationship stages that a man and woman find themselves in, such as "MOMOL" which means "Make-Out-Make-Out Lang" and "HOHOL" for "Hang-Out-Hang-Out-Lang."
So what's new?
The trio is ending 2014 with a book called I Need Space, the first release of ICON, a label of Viva PSICOM Publication Corp., which publishes works of famous personalities. A compilation of the hottest topics they have talked about on their show, the book aims to help single men analyze their solitary state. What have they done or what are they doing to remain single?
You don't have to be single to enjoy the book. Buy a copy (availabe in bookstores since Dec. 15) and find out for yourselves.
Let's try to pick the brains of the trio.
How can you tell if, courting a girl, may pag-asa ka, nagpapa-hard-to-get lang ang girl or talagang walang gusto sa'yo?
Entertainment ( Article MRec ), pagematch: 1, sectionmatch: 1
Any tips for guys not gifted with looks on how to win the affection of girls with to-die-for looks? Will money help?
How would you discourage jilted guys from taking anything drastic (like jumping from the top of the tallest building at The Fort or from Jones Bridge into the murky Pasig River)?
From your experience, would you say that girls today are more aggressive than those of yesterday (you know, if they like guys, sila na ang nanliligaw)?
Have you ever been propositioned by a gay?
Have you ever been broken-hearted? If so, how did you cope with it?
If you were to recommend your book to three women, who would they be?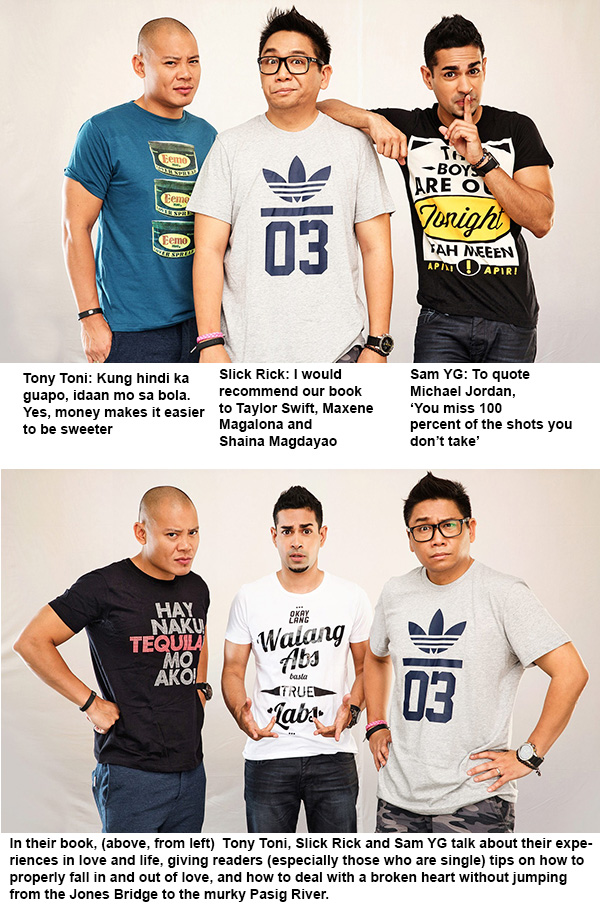 Tony Toni
1. First, if may second date or gusto lumabas na kasama ka ng barkada niya okay!!! Second, pag nag-reply with smiley face. Third, if she likes all your Instagram photos. 
2. Money makes it so much easier to be sweeter! Kung hindi ka guapo idaan mo sa bola! Mas maraming babae na nadadala sa pangit na mga bolero kesa sa mga guapo! But having the courage to talk to a girl takes practice and all you need is to be yourself and mingle within different social groups.
Whether Bible study, bars, library, grocery, house party, competitive sports or a hobby. So many avenues to meet people. Always start with friendship!
3. Guys, it's not the end of the world if you get busted, rejected, dumped or cheated on. Life has so much to offer, don't let one person ruin your purpose hear on earth! For every heartbreak is a breakthrough. Feel the victim for a day, week or month. Then it's time to move on and learn to love yourself selflessly again!
4. I guess with the character on BnO ala "Bad Boy," some girls are still hesitant and apprehensive to make a move on me. It's a lot of pressure on guys since some women wait for guys or me to always make the first move.
5. I've gotten a few. We have beki friends and they always joke around or make green jokes towards one-night-stands. I decline and sometimes I just say, "Baka ma-in love ka!"
6. Yes! I bury myself in my work. Also, the fastest cure is travel, travel and travel!
7. Sharon Cuneta, Vice Ganda and Sen. Miriam Defensor-Santiago.
Slick Rick
1. I usually can tell if I have a chance. If I ask her out and she's always available, then that's one sign. Then, if she calls to say she can't go when I ask her out then I say, "It's OK, maybe next time." But the best sign for me is if she doesn't say yes to any invitation. That's the white flag for me, time to move on!
2. Money helps in any case but you don't want to have to flaunt that to get the girl. You can use it to maybe take her out to a nice restaurant or buy her a nice gift. But the best way to get the girl is to make her laugh. Looks may fade but personality will always be there!
3. It may cross your mind but you really have to remember that if it doesn't work out, then move on. Lesson learned. Life may be hard for the next few weeks or months but think about all the good things in your life like family, friends and work. Start loving what you have and you will attract what you want.
4. Girls today are more aggressive because the playing field is almost leveled. Women can make the same or more amount of cash. They are more independent and they know what they want. Sometimes they flip the game on the guy and some guys aren't ready for that.
5. Nope. None.
6. Yes. I sulked for a few weeks, then I started going out again with Tony Toni, just mingling around and meeting his friends.  But I think that's what got me through, meeting new people. When you meet people for the first time, don't talk about your heartbreak or about your ex, not unless they ask you.
7. Taylor Swift, Maxene Magalona and Shaina Magdayao…because they have a strong personality and I think they would have a good laugh with our book. They would say to themselves, "I've been through that, that sounds familiar. Or, oh really now!?!"
Sam YG
1. Never assume or else, assuming ka! Sometimes your emotions get the best of you but it's always important to use your mind to observe signs that she may be giving you. Baka mamaya, kelangan mong mag-move on kahit never naging kayo, ang hirap nun! To all the girls, huwag din masyadong pa-hard-to-get, baka ikaw pa mag-regret!
2. It's not always about the looks…kaya magbasa ng books! Be interesting. Sometimes it also helps to drink Gluta. When you're rich, you can afford to be sweet…but at the end of the day, it still boils down to character and having the right attitude.
3. There's always life after love! Don't be foolish. There's someone out there waiting for you…but it's all about timing. Sometimes, you have the right love at the wrong time. But other times, you get the wrong love at the right time.
Kung tatalon ka sa building, mababalian ka lang at masasaktan. Sa Pasig River, madaming germs, you'll just get sick. Once again, use your mind. Time will heal all wounds.
4. I think girls these days know what they want and aren't afraid to get it. It's all about equality. At the end of the day, sabi nga ni Michael Jordan, "You miss 100 percent of the shots you don't take."
5. Yes. I said, "Kung isasaksak mo ang 110 sa 220, sasabog lang 'yan. Huwag mo nang subukan."
6. Yes. I use Omega pain killer on my heart. If it was painful that means the love was true. Learn from your mistakes, give yourself time and move on. Sometimes, it's better to leave a glass broken than trying to glue the pieces back together. Malalim 'yon, so digest with caution. Loving is like riding a bike. You will fall down and get hurt from time to time but if you don't get back up, you'll never really learn. Yes, malalim din 'tong line na 'to. Ang problema lagi, kung kelan ako seryoso tsaka ako naloloko.
7. I wouldn't recommend the book to just three, I'd recommend it to all. We all go through and will experience love, heartbreaks and kilig as we go on with life. Let this add to your knowledge: It's a jungle out there. Remember, walang taong paasa; meron lang talagang umaasa. 
(E-mail reactions at entphilstar@yahoo.com. You may also send your questions to askrickylo@gmail.com. For more updates, photos and videos visit www.philstar.com/funfare or follow me on www.twitter/therealrickylo.)