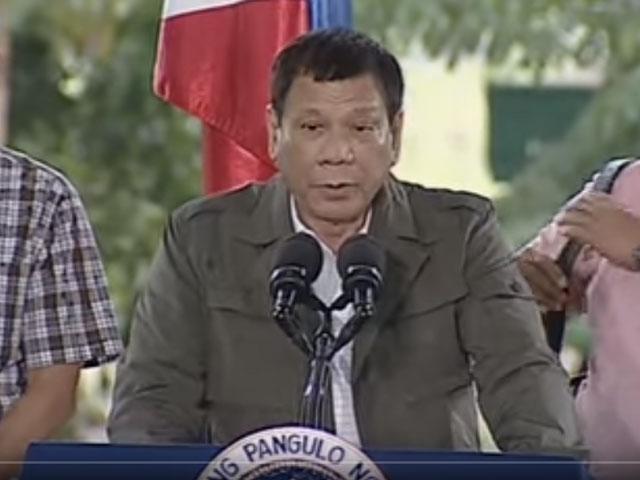 There is no single country that exhibits the best practice of federalism, an international political expert said as President Rodrigo Duterte pushes to change the Philippines' system of government.
Benedikt Seemann, head of the Konrad-Adenauer-Stiftung (KAS) office in the Philippines, told GMA News Online in an interview that the foundation and Duterte's political party, the Partido Demokratiko Pilipino-Lakas ng Bayan (PDP Laban), organized a recent event that explored models of federal systems around the world.
"One insight from this is: There is no such thing as the one and only best practice model," Seemann said.
"For the case of the Philippines, we have to look at different parts of different models, ie. Canada, Australia, Germany, and see which parts of these systems can be made suitable for the Philippines," he added.
The PDP-Laban is supporting Duterte's push the government's shift from a "unitary, presidential, constitutional republic" to "federal."
KAS is a political foundation that is closely associated with the Christian Democratic Union of Germany, a political party in that country.
KAS conducts political education and research. Its 16 regional offices and two conference centers around the world are in charge of over 200 projects in more than 120 countries.
'Big' PHL needs to decentralize
"In a unitary system the central government controls everything. In a federal system, power is shared between the nation government and the states. The underlying belief is that some matters can be better taken care of by the local level rather than by a distant national government," Seemann explained.
"Basically, states with a population as big as the Philippines need to decentralize and devolve powers to regions such as subnational entities. Otherwise, central government reaches a point where it cannot handle things anymore," he added.
Seemann acknowledged the hesitation of some individuals and groups about federalism.
"Many see federalism as a 'first step to secession.' In fact, it's the opposite. It creates national cohesion through regional diversity. States or regions will be allowed to handle some things without interference from the national level and they can create their own sources of income," he said.
"In some matters, regional governments can cooperate with the national level. Other responsibilities, such as foreign affairs or national defense, remain solely with the national government. This way, every level is free to handle their distinct responsibilities," he explained.
New states
If the Philippine government shifts to the federal system, new states or "estados" (similar to Estados Unidos) will be established.
At present, the Philippines has 17 regions.
On Thursday, House Speaker Pantaleon Alvarez, speaking before business leaders, said 11 or 12 states will be formed if the Philippines shifts to a federal type of government.
However, Alvarez clarified that specific details about the type of federal government that the Philippines would adopt will be determined by the Constituent Assembly (Con-Ass) that the Duterte administration hopes to convene.
Seemann explained: "Federalism is not just a new set of lines on the map. Federalism is meaningful self-determination of the region. It's part of the struggle for nation-building."
"Distinct regions have distinct identities — regional culture, languages — and different needs," he said. "Through federalism, government gets 'closer' to the people and becomes less abstract than distant national government that might be hundreds or thousands of miles from where you live," he said.
'Comes at a price'
Seemann acknowledged that shifting to federalism will come with challenges and difficulties.
"Like all changes, it comes at a price. Setting up meaningful, self-determined regions will be costly, of course. Since the concept is new, government and civil society have to work together to teach the people the meaning of this kind of change," Seemann said.
"Another challenge is the fact that federalism by itself will not bring any betterment. It has to be seen as one part of a comprehensive reform package," he said.
He also warned that "federalism without a shift to a parliamentary form of government would still be prone to corruption."
He cited a 2006 World Bank publication, "The Role of Parliament in Curbing Corruption" which cited a statistical study that showed that "presidential systems, compared to parliamentary systems, increase the probability of high corruption levels."
In the recent KAS-PDP-Laban forum, Seeman said the reforms needed along with federalism were discussed.
Some of the suggested changes include "electoral reform, the role of political parties and civic participation or a shift to parliamentary form of government," he said.
"Without these comprehensive changes, federalism would remain a storm in the water glass," he added.
Seemann noted the number of decision-makers in the Philippines who seem to be hesitant to give greater power to local government leaders whom they perceive as corrupt.
"The assumption with many decision-makers here seems to be 'Don't give local authorities more power. hey're all corrupt!' Actually, federalism can bring progress for good local governance and integrity," he said.
However, Seemann said the shift to federalism "requires strong institutions."
"Unfortunately, we hardly have that right now in the Philippines. That's why the fight against corruption has been so tedious – not only on the local level," he said.
Past proposals
Meanwhile, Seemann said it would be good to revisit some of the past proposals for federalism.
He said the work of the Citizen's Movement for a Federal Philippines (CMFP), with Dr. Jose Abueva as its chairman, "was a milestone."
In 2005, CMFP drew up a draft Constitution for a Federal Republic of the Philippines with a Parliamentary Government.
"I believe this proposal has to be revisited in order to see what we can still learn from it today. Some things from 2005 proposal can be used again, others might need revision," Seemann said.
Amending the Constitution
On Thursday, House Speaker Pantaleon Alvarez said President Rodrigo Duterte was in favor of amending the Constitution by convening Congress as a Constituent Assembly.
Alvarez said Duterte earlier favored having a Constitutional Convention whose members are elected by the people. However, Duterte changed his mind considering that holding elections to choose constitutional delegates would be costly, noting that the recently-concluded May 9 polls had cost the government around P70 billion.
Seemann said, "No matter how one starts the process, it's important that the chance that is about to come finds support among a majority of all people and sectors in society. Even if we have that, it remains a long road from changing the constitution to actually implementing change in real life."
"Drawing new lines on the map can be done tomorrow, but if the efforts to change and federalize our system in a comprehensive and sustainable way are to be serious, the process and the implementation will take at least six years," he added.
Seeman acknowledged the challenges that come with the plan to shift to a federal form of government.
"Right now we are facing a dilemma: Everybody wants to follow the path towards federalism but hardly anyone know what it really is. The major challenge for civil society organizations, political parties and our new administration is to bring it down to level of the people," he said.
"Federalism is hard to sell as a 'magic pill' if no one understands it," he added. —ALG, GMA News