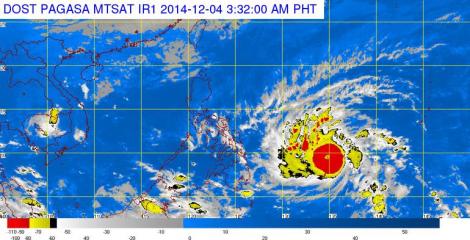 Typhoon Hagupit enters PAR Thursday morning. "At 4:00 am today, the eye of Typhoon "RUBY" was located based on all available data at 942 km East Northeast of Hinatuan, Surigao del Sur or 1,023 km East of Surigao City (9.4?N, 134.8?E), with maximum sustained winds of 175 kph near the center and gustiness of up to 210 kph. It is forecast to move West Northwest at 25 kph. Northeast monsoon affecting Northern Luzon," PAGASA said Thursday in its 5:00 a.m. bulletin. PAGASA
The head of the Catholic Bishops' Conference of the Philippines on Thursday asked churches and schools to open their doors to those who may be displaced by Typhoon Ruby (Hagupit).
CBCP president and Lingayen-Dagupan archbishop Socrates Villegas, in a statement, also voiced concern about forecasts that Ruby could hit the same areas devastated by super Typhoon Yolanda (Haiyan) last year.
"I appeal to our Catholic churches and schools to open their doors to refugees and those badly in need of shelter, particularly those already displaced by Yolanda,"
he said.
Yolanda had left more than 6,300 dead after ripping through the Visayas.
But Villegas also reminded the evacuees who are allowed shelter in churches to respect the sacredness of the place.
"I request only that evacuees remember the sacred character of the churches they occupy, should they do so," he said.
Villegas also called for prayers from all Filipinos, especially those far from the danger zone.
Evacuations
Meanwhile, he pleaded with government officials and non-government organizations to commence evacuation now.
"To wait any longer may be disastrous. There is no such thing as an excess of caution, especially when faced with a danger so severe," he said.
In the meantime, he said he and his brother-bishops "commend the entire nation to the mercy, love and providence of our Father."
"Lord, spare our land from this typhoon!" he added.
Prayers
Meanwhile, Church-run Radyo Veritas reported priests in Borongan diocese in Eastern Samar started praying Wednesday night to God to spare the country from destruction.
Borongan Bishop Crispin Varquez also met with priests in the diocese.
"We pray(ed) last night and we pray in every Mass the Oratio Imperata, and nakikipag coordinate na kami sa iba't-ibang LGUs, spiritual at physical preparations ang kailangan namin para hindi mag-panic ang tao,"
he said.
 — 
Joel Locsin/VC, GMA News