The Philippine economy grew by 6.9% from July to September 2017, beating analysts expectations and overtaking China in growth again.
The country's Q3 Gross Domestic Product (GDP) surpassed the midyear growth rate of 6.5 percent, and the Nomura Securities projection for a 6.7% growth rate.
The national statistics agency credited manufacturing, trade, and real estate, renting and business activities as the main drivers of growth for the quarter.
Among the major economic sectors, Industry recorded the fastest growth of 7.5 percent followed by Services with 7.1 percent growth. Meanwhile, Agriculture slowed down by 2.5 percent from 3.0 percent growth in the previous year, the report stated.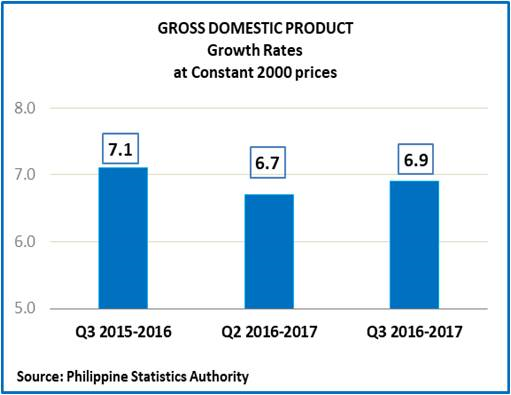 Net Primary Income from the Rest of the World (NPI) grew by 5.7 percent compared with the 4.1 percent growth recorded in the same quarter of the previous year. As a result, Gross National Income (GNI) posted a growth of 6.7 percent.
With the country's projected population reaching 104.9 million in the third quarter of 2017, per capita GDP grew by 5.4 percent. Meanwhile per capita GNI and per capita Household Final Consumption Expenditure grew by 5.2 percent and 3.0 percent, respectively, reported the office of Undersecretary Dr. Lisa Grace S. Bersales.
In a briefing, Economic Planning Secretary Ernesto Pernia said the government is optimistic it will meet its economic growth target of 6.5-7.5 percent for this year.
"We are likely to rank second in Asia, next only to Vietnam at 7.5 percent, and ahead of China's 6.8 percent and Indonesia's 5.1 percent," Pernia said.
The Philippines has been projected by global financial giant ING to register a 6.5 percent growth rate throughout the term of the current administration.
The post Philippine economy sizzles in Q3 growing 6.9%, one of Asia's best appeared first on Good News Pilipinas.