The Philippines claimed third spot among the happiest and most optimistic countries in the world.
Gallup International's 41st annual global year-end poll showed that 86 % of Filipinos answered that they were happy, two percent were unhappy and ten percent were neither happy nor unhappy.
With a +84 net happiness score, the Philippines is the third happiest country of 2017 among 55 countries surveyed.
Last 2016, the country shared the same spot with China with a score of +79 net happiness which according to the poll had a five-point increase.
"2017 was a tough year with terrorist attacks over almost each week and it may have influenced personal lives all around the world. Nevertheless, a majority in all polled countries are happy," Gallup stated on its website.
Economic optimism, Hope Index
The Filipinos placed 5th with a score of +32 net optimism among the ten countries who believe that 2018 would be more economically successful than 2017.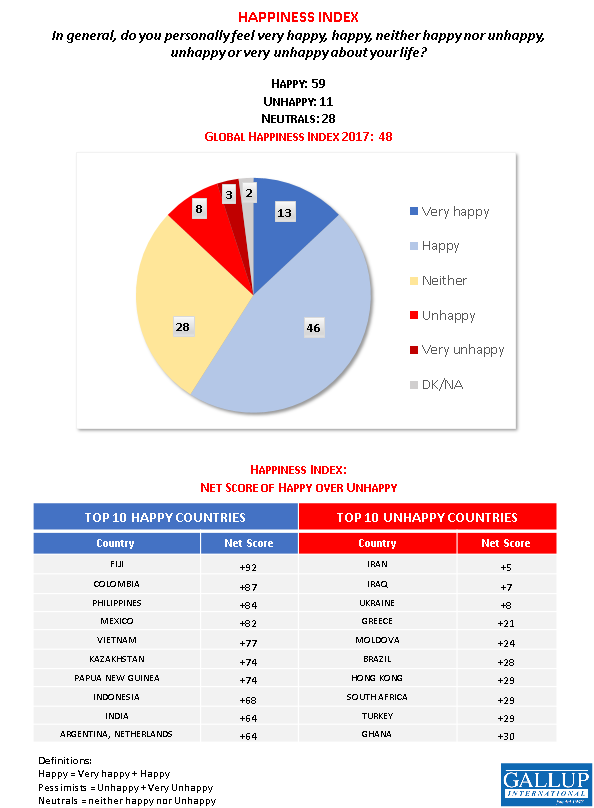 Forty percent of Filipinos answered that 2018 will be a more prosperous year for the Philippines while ten percent said that the country will face more economic difficulty. The remaining forty six percent stated that this year will be the same as last year.
Gallup stated that the economic optimism lowered by two points, making the pessimism thirty percent higher than the economic optimism with only twenty-eight percent.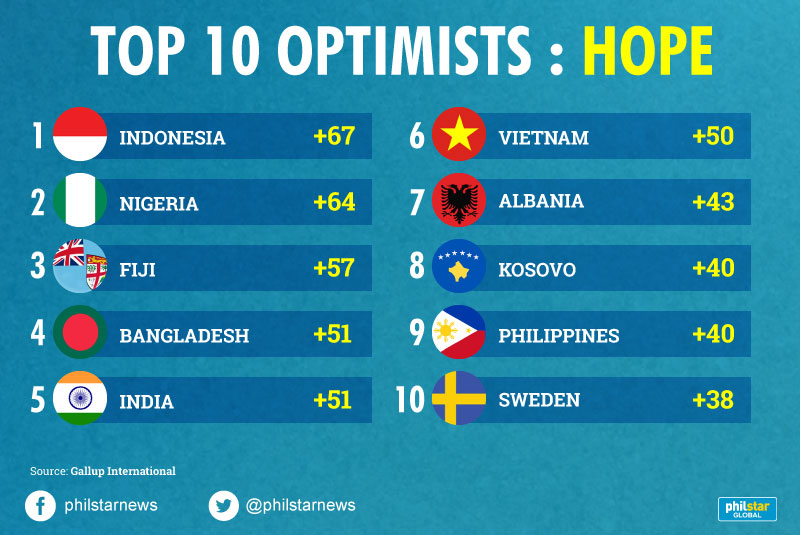 Filipinos still proved to be one of the most hopeful ones as the Philippines ranked 9th with a +40 net optimism. Forty percent of the Filipinos stated that 2018 would be a better year than 2017, four percent answered worse will happen while forty eight percent answered it will remain the same this year.
Only forty percent were surveyed to have positive outlook for the year 2018, pushing the optimism index down by thirteen points compared to last year's poll.
The Gallup International End Year survey is an annual tradition. According to its site, the survey was conducted from October 2017 to December 2017 with 53,769 persons, interviewed globally. Each country has a representative of 1000 men and women interviewed either face to face, online, or via telephone.