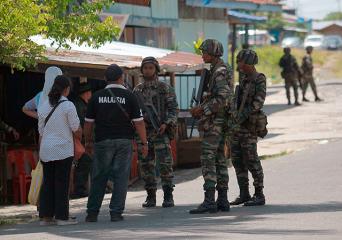 Malaysian troops deployed as Sabah clashes escalate. Malaysian soldiers man a security checkpoint in Semporna, the new area where a standoff with armed followers of the Sulu sultan in Simunul, Borneo occured on Sunday. Five Malaysian policemen and two gunmen died in a fresh clash as fears mounted that violence linked to a deadly standoff with Filipino intruders had widened to other areas. AFP
(Updated 2:44 p.m.) The Philippines has asked Malaysia to exercise maximum tolerance in dealing with the remnants of a Filipino group that figured in a weeks-long standoff in Sabah following the violence that erupted there last week.
At a press briefing in Manila on Monday, Foreign Affairs spokesperson Raul Hernandez said in a Note Verbale given by Foreign Affairs Secretary Albert del Rosario to the Malaysian ambassador to the Philippines, both country expressed that they "value the lives of their citizens, and share the same objective of preventing further loss of lives and further bloodshed."
Hernandez added, "Therefore, the Philippine government requests the Malaysian authorities to exercise maximum tolerance in dealing with the remaining members" of the Filipino group, which is led by Raja Muda Agbimuddin Kiram, brother of Sulu Sultan Jamalul Kiram III.
Kiram and his group are claiming ownership over Sabah.
Hernandez also said Del Rosario is flying to Kuala Lumpur on Monday afternoon to discuss with the Malaysian government ways to de-escalate the tensions in Sabah.
He also said they have received information from the Malaysian government that the situation in Sabah is now under control. — with Michaela del Callar/KBK, GMA News