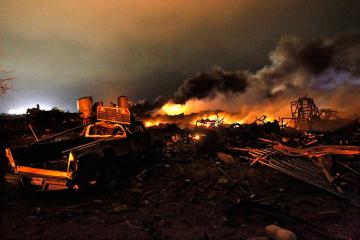 Over 100 hurt in Texas fertilizer plant explosions. A wrecked vehicle is seen near the burning remains of a fertilizer plant after an explosion in the facility in the town of West, near Waco, Texas early Thursday, April 18. The deadly explosion ripped through the fertilizer plant late on Wednesday, injuring more than 100 people, leveling dozens of homes and damaging other buildings including a school and nursing home, authorities said. Reuters/Mike Stone
Following a deadly explosion at a fertilizer plant in the US, the Philippines' Fertilizer and Pesticide Authority (FPA) on Thursday assured the public that stringent regulations govern the operations of fertilizer shops and plants in the country.
Also, according to a report aired on GMA 7's "24 Oras", the FPA noted distributors, processors, importers, exporters and plant operations of fertilizer and pesticide companies are currently under going inspections.
The government agency also provided photos of those inspection visits to prove that they were made.
The explosion and subequent fire at the West Fertilizer Co. plant located in Texas on Thursday (PHL time) took at least 15 lives and hurt more than 160 others as it razed the facility and nearby establishments.
Since 2002, the FPA noted, the use of ammonium nitrate and potassium nitrate had been banned in the country. Besides as a component for making fertilizer for fruit-bearing trees, the chemicals could also be used to make improvised explosives.
"Ang napagkasunduan as per resolution, banning the importation of ammonium nitrate," Gabino Barlin, FPA executive director, said in the television report.
Edwin Martine, branch manager at Filipinas Agri Planters Inc., concurred with Barlin. "'Yung ammonium nitrate, potassium nitrate, 'yun ang ginagawang pamsabog… wala na 'yan sa amin." — DVM, GMA News