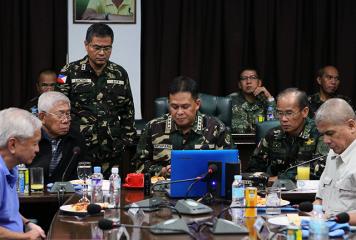 AFP, Defense officials monitor 'great escape' . At Camp Aguinaldo on Saturday, August 30, Defense chief Voltaire Gazmin, Foreign Affairs Sec. Albert del Rosario, AFP chief of staff Gen. Gregorio Pio Catapang Jr., and other military officials monitor the situation of Filipino UN peacekeepers who were on a standoff with Syrian rebels at Golan Heights. All 75 Filipino peacekeepers are now safe after the last batch slipped away under cover of night from besieging Syrian rebels. AFP/AFP-PAO
The Philippine military is seeking an investigation against the commander of the United Nations Disengagement Observer Force (UNDOF) for allegedly endangering the safety of the Filipino peacekeepers who figured in the Golan Heights standoff.
According to Armed Forces of the Philippines (AFP) chief Gen. Gregorio Pio Catapang, Lt. Gen. Iqbal Singh Singha, an Indian national, ordered the Filipino peacekeepers to lay down their firearms to ensure the safety of the Fijian peacekeepers seized by Syrian rebels.
"Under the Terms of Reference, it wasn't mentioned there that we can be ordered to surrender our firearms," Catapang said. "The UNDOF commander wanted to save the Fijians at the expense of the Filipinos."
He said aside from laying down their firearms, the Filipino troops were also ordered by Singha to "raise the white flag."
"He (Singha) said that if we were attacked, we should raise the white flag. I said no way. That means our soldiers will also be held hostage," Catapang said.
The Fijian peacekeepers — at least 44 of them — had been seized by Syrian rebels who overran their position last week.
Their 75 Filipino counterparts, who were manning Position 68 and 69, meanwhile figured the rebels in a standoff that ended over the weekend with them escaping following a seven-hour firefight.
Asked if he expects Singha to apologize for his decisions, Catapang said: "I don't think he will. There is actually no need to say sorry. What is needed is that he be investigated."
AFP Peacekeeping Operations Center chief Col. Roberto Ancan said the troops defied Singha and informed him of their action, which he said he supported.
"Our troops on the ground do not want to do that (surrender) and it was relayed to me. And I also told them that it's a no-go because if they [surrender] their firearms, what would you do to defend yourself?" said Ancan.
"As troops-contributing country, our national interest will prevail over the situation. We can do that, we can take orders from our national government, from the capital," he added.
Israel captured Golan Heights from Syria in a 1967 war, and the countries technically remain at war. Syrian troops are not allowed in an area of separation under a 1973 ceasefire formalized in 1974.
UNDOF monitors the area of separation, a narrow strip of land running 70 km from Mount Hermon on the Lebanese border to the Yarmouk River frontier with Jordan. There are 1,223 UNDOF peacekeepers from six countries.
The Philippines has 331 troops serving in UNDOF. They are set to be pulled out after their tour of duty in October. —KBK, GMA News