Filipino taekwondo jins won 16 medals in the 6-country 13th ASEAN Taekwondo Championship held in Malaysia.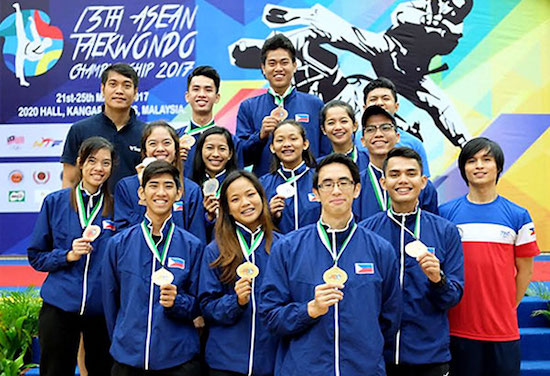 The Pinoy jins finished second overall carrying the colors of the Smart/MVP Sports Foundation.
The Filipino gold winners in the Senior division were:
Jenar Torillos
Christian Al Dela Cruz
Kristopher Robert Uy
Leila Delo
In the Junior Division, Romelle Pablo Jr. won the gold.
Silver medalists in the senior division:
Karen Cells
Rheza Aragon
Rhezie Aragon
Noelyn Campos
Ma. Kaye Shannelle Romuar
Joaquin Mendoza Jr.
Reign Charisse Ragutana received the silver in the Junior division.
Bronze medalists (Seniors):
Eldridge Justin Langit
Abram Lance Cuvinar
Bronze Medalists (Juniors):
Sturdy Jay Gilbuena
Catryn Janiella Gilbuena
With reports from Katherine Anne M. Baltar
The post Pinoy Jins win 4 golds in ASEAN Taekwondo Tilt appeared first on Good News Pilipinas.